Not Shopping for Medicare May Cost You in 2013 - by Morningstar Investment Research
If you're among the millions of Part D participants at risk for double-digit premium hikes next year, check your options before grabbing your checkbook.
What's the top financial worry that keeps Americans up at night? The stock market? Another financial crash? Unemployment?
Those are top concerns, but they pale against the biggest worry registered in the latest Merrill Lynch Wealth Management survey of affluent households: the cost of health care. More than three fourths of respondents cite health care as their top worry--and that figure jumps to 83% among people over age 65. Forty-four percent said they view health-care costs as the greatest threat to the life they want to live in retirement.
The Merrill Lynch finding comes just as Medicare's autumn enrollment period is starting--the time when seniors can shop and sign up for prescription drug (Part D) and Medicare Advantage managed-care plans (Part C). The enrollment season runs from Oct. 15 through Dec. 7.
Although the cost of Medicare Advantage plans will rise modestly next year, many of the top prescription drug plans are boosting premiums by double digits. What's worse, the 2013 Part B premium (outpatient services)--which won't be announced until the end of October--is projected to jump 5%-10% next year.
Here's a summary of what to expect from Medicare in 2013, along with a few shopping tips and resources.
Prescription Drugs
Seven of the top 10 stand-alone drug plans will have double-digit percentage increases next year, according to Avalere Health, a health-care consulting and research company. More than 80% of Part D beneficiaries are in these plans; Avalere data shows that 5.9 million will pay double-digit increases next year if they don't switch. That's a whopping 29% of all Part D enrollees.
And good deals can be had. Although some well-established plans are boosting premiums to maximize profit from their existing customers, new plans are coming into the market offering low premiums aimed at building market share. For example, the current price leader, Humana Wal-Mart Preferred Rx, boosted its monthly premium 23%, to $18.50, for 2013. Meanwhile, a new entry, UnitedHealth's Medicare Rx Saver Plus, is offering a $15 premium for 2013.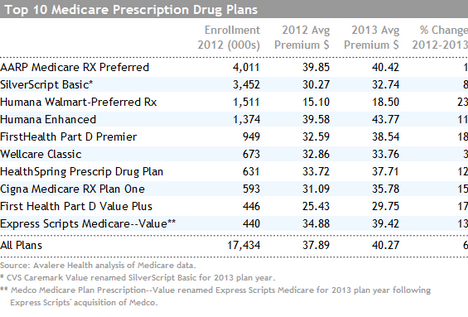 But the variations underscore the importance of re-evaluating plan coverage annually. Along with the changes in premiums, a plan that might have been a good fit this year might not be the best match for 2013 due to changes in benefit offerings, or because your prescription drug needs have changed.
A new study suggests enrollees are leaving money on the table. A team of researchers at the University of Pittsburgh Graduate School of Public Health found that Medicare beneficiaries overpay by hundreds of dollars annually because of difficulties selecting the ideal prescription drug plan for their medical needs. Only 5.2% of beneficiaries chose the least-expensive Part D plan that met their medical needs in 2009, overspending on premiums and prescription drugs by an average of $368 a year.
Inertia might be a factor. Another survey released earlier this month by Medicare Today and KRC Research found that 91% of seniors are satisfied with their current Part D plans, and that only one in three will comparison shop this fall.
A coverage review should begin with the annual notice of change, which enrollees should have received by late September. This document is a good starting point for understanding any basic benefit changes for 2013.
But it's critical to go further by checking under the hood of a plan's formulary--the rules under which a drug is covered. For example, a plan might state that a drug is covered, but also that the insurance company has the right to ask the ordering physician about cheaper alternatives--a process that could delay prescription fulfillment by weeks or even months.
Finally, consider gap coverage in the notorious "doughnut hole." The phrase refers to the gap in coverage that begins when total annual drug spending by you and your insurance company hits a certain amount, and then resumes when spending hits the "catastrophic" level.
The Affordable Care Act gradually is closing the doughnut hole--in 2013, the gap starts when spending hits $2,970 and stops at $6,733. Enrollees will receive a total discount on brand-name drugs in the gap of 52.5% next year, and the discount on generic drugs will rise from 14% to 21%. The savings can be substantial. Seniors enrolled in traditional Medicare who hit the coverage gap will save an estimated $766 in 2013, according to the U.S. Department of Health and Human Services.
If you expect to enter the doughnut hole, consider buying a Part D policy that includes gap coverage. Thirty-three percent of drug plans will offer gap coverage this year, though not all of that coverage extends to brand-name drugs. And the premiums for these plans are much higher: The average enrollment weighted monthly premium is $95.74, compared with $36.15 for plans without gap coverage, according to an Avalere analysis of Medicare data.
Medicare Advantage
Advantage plans are HMO-style networks that offer all-in-one medical and drug coverage. When a senior enrolls in an Advantage plan, Medicare provides a fixed payment to the plan that covers Part A (hospitalization) and Medicare Part B (outpatient) services. There's a supplemental premium for prescription drugs and other enhanced services, such as zero-deductible prescriptions, vision care, and even gym memberships.
The number of Advantage plan choices is rising in most parts of the country, benefit offerings are stable, and Avalere found that monthly premiums will rise an average of 5% for 2013.
When you evaluate a Medicare Advantage plan, make sure the doctors and other providers you want to see are in the networks and that they are accepting new patients who are on the plan. You'll also want to consider the cost of seeing your primary physicians and specialists in the plan, and which hospitals are in the network.
Part B
Medicare enrollees are paying $99.90 this year for the standard Part B premium, and experts forecast that it could jump 5%-10% in 2013. The Medicare trustees said earlier this year that a 9.2% increase was most likely; the final premium number won't be announced until later this month.
But the actual increase that you'll pay depends on a couple of factors.
Some seniors will pay a smaller increase because of the interaction of the Part B premium with Social Security's annual cost-of-living-adjustment, or COLA. Most seniors have their Part B premiums deducted from Social Security payments, and by law, they can't be subjected to higher Medicare premiums if it means that net Social Security benefits would fall.
The COLA is set by averaging inflation for the third quarter, as reflected by the Consumer Price Index for Urban Wage Earners and Clerical Workers, or CPI-W. The CPI-W for September won't be released until Oct. 16, but based on the quarter so far, the COLA probably will be set around 1.5%.
Assuming those forecasts hold up, it would mean the Medicare Part B premium couldn't increase any more than 1.5% for seniors whose monthly Social Security benefits are $625 or less. Seniors with higher Social Security benefits would pay the full Part B increase--which means they'll see much smaller net COLAs--for example, 0.79% for someone with a $1,500 monthly benefit.
High-income seniors also pay surcharges for Part B, prescription drug, and Advantage plans. The surcharges affect individuals with annual income starting at $85,000 (single filers) or $170,000 (joint filers).
Resources for Shopping
The Medicare Plan Finder on the Medicare website is the authoritative online resource for plan shopping. Plug in your Medicare number and drugs (you'll need each drug's name and dosage). The tool then displays a list of possible plans; their estimated costs, premiums, and deductibles; which drugs are covered; and customer-satisfaction ratings. The finder also will give you advice about drug utilization and restrictions.
Free one-on-one help is available from the State Health Insurance Assistance Program, or SHIP, a network of nonprofit Medicare counseling services.
The Medicare Rights Center also offers free counseling by phone (800-333-4114).
Finally, fee-based, counseling services such as Allsup Medicare Advisor (866-521-7655) will provide a personalized plan analysis and phone consultations for a few hundred dollars.
Click Here for a Free Trial of Morningstar Investment Research