The Very Timely Profit Power of Selected Value Stocks
The #1 Secret of Great Value Investors by Zacks Investment Research
What if you could invest in a company that's not only undervalued but has the possibility of big growth?
I know what you're thinking. It's nearly impossible to find those stocks.
It's the "holy grail" of investing: a value stock that also has growth.
But here's a little secret that all great value investors know:
These holy grail stocks do exist.
And no, they're not some $1 stock with little volume or other risky fundamentals that are traded on an over-the-counter exchange. They are companies that you and I both know, but are, for whatever reason, being ignored by other investors.
Now that we know what the holy grail of investing is, how do we find them?
The #1 Secret is the PEG Ratio
Value investors have long looked to the price-to-earnings ratio (P/E) as a screen for value stocks. A low P/E ratio is believed to signify that a company is undervalued.
But that's not the only metric that signals value.
Benjamin Graham, long considered to be the "father" of value investing, found that a low price-to-earnings ratio wasn't enough to unearth the true undervalued companies. He looked to the PEG ratio instead, which combines both value and growth; a more potent combination.
The PEG ratio is calculated by taking the price-to-earnings (P/E) ratio and dividing it by the 5-year projected growth rate.
Confused yet?
These days you don't really need to figure it out yourself. Most financial web sites, including Zacks.com, provide the PEG ratio for you as a screening criterion when looking for stocks.
What's a Good PEG Ratio?
A company that is considered fairly valued will have a P/E ratio that equals its growth rate. So the PEG will equal 1.0.
A more expensive stock will be above 1.0.
Normally, a stock with a PEG ratio under 1.0 is considered "undervalued" as that means the market is underestimating the earnings, and/or it is growing faster than expected.
So, that's what you should be looking for when you see the PEG ratio. You want a ratio under 1.0.
How the PEG Ratio Really Works
1) You could have a company with a P/E ratio of 30 and a projected growth rate of 15%. This company clearly doesn't look like it's undervalued with a P/E ratio that high. You would be right. Plugging it into the formula, you get 30/15 = PEG of 2.0. Since 2.0 is above 1.0, it is considered an expensive stock.
2) Let's say you have a company with a P/E ratio of 40 and a projected growth rate of 50%. With a P/E of 40, it clearly seems to be a bad value. However, plugging it into the formula gives you a PEG ratio of 0.8 (40/50= 0.8). Since that is under 1.0, it is considered undervalued. The incredible growth rate counters the high P/E ratio.
3) In our third example, a company with a P/E ratio of 10, which is well within the value parameters for most investors and is usually considered pretty cheap, has a growth rate of just 7%. Putting it into the formula gets a PEG ratio of 1.43 (10/7= 1.43), which is much too high to be considered undervalued despite the company's rather low P/E.
Finding the Best Values
Instead of going it alone to find the values, we do the work for you. We offer a service that combines the most powerful value criteria like the PEG ratio with the timeliness of the Zacks Rank. It's a great way to catch value stocks at the right time - just as the market begins to recognize their real worth.
Today, in fact, our Value Investor portfolio includes 22 stocks that are "on sale," trading well below where they are likely to head in months and years to come.
Click here for a free trial of Zacks Investment Research.

Value Investing Stock Picks of Guru Investors
GuruFocus is dedicated to value investing. As employed by Warren Buffett, the greatest investor of all time, value investing is the only winning strategy for the long term. GuruFocus hosts numerous value screeners and research tools, and regularly publishes articles about value investing strategies and ideas. GuruFocus also publishes three newsletters: Monthly Ben Graham Net-Net, Buffett-Munger Best Bargains and Microcap Magic Formula Stocks.
What Is Value Investing?
Value investing is the selection of stocks that are priced less than their intrinsic values. Value investors are looking for stocks of companies that they think the market has undervalued. Markets overreact to good and bad news especailly in uncertain times resulting in stock price movements that do not aligned with the company's long-term fundamentals. The result is an opportunity for value investors to profit by investing when the prices are deflated. Mostly value investors use lower than average price-to-book or price-to-earnings ratios, and/or high dividend yields to purchase stocks.

Dividend Paying Stocks Generate Real Cash and Build Wealth
Intrinsic Value
Forecasting intrinsic value is very subjective. Finding and defining intrinsic value is not the same for everyone. Buy buying hopefully at low enough prices, in case the price goes lower, it won't be as severe to allow you to hold short-term to gain the long-term return.

Stock and Industry Analysis Reports Daily Technical Portfolio
Value Investing and the Difference Between Big and Small Investors
Millionaire and billionaire investors have the ability to ride out longer and deeper downtrends or bear markets in asset prices where as small investors and traders cannot so easily without losing their entire account equity. If your not one of these types of investors traders, then you should be highly considering and using stop-loss to cut your losses when they are still small and preserve your investing trading capital. Your stop-loss will depend upon how much money you can afford to lose, leverage, and other factors. Allowing for a stop-loss of 8% average for DJIA and S&P500 stocks to 15% to 20% for Nasdaq and penny stocks is maximum suggested amounts to accept.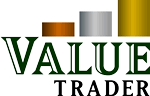 Wary Investors Have Unwittingly Created a Market-Beating Opportunity
Warren Buffett's advice, "Be greedy when others are fearful" has never been more on the mark than during today's hyper-volatile market. General investor wariness is causing a handful of terrific companies to suddenly emerge as "value stocks."