Gold Silver Alerts Reports Signals
We send Buy and Sell signals, on average 30 to 50 times per month and you can easily make money in the gold and silver spot markets and commodities market with these Sell and Buy signals. It's that easy! Our gold trading signals and silver trading signals are valuable to the forex gold spot market traders and also for the long term gold investors in commodities market. We post the new gold signal every day in the users section of our web site. It will also be emailed to you, so you will not miss any signal.
Click Here to Review Our Latest Gold Analysis Blog Articles
April 02, 2013 - Precious Metals Forecast Outlook by Zacks Investment Research
Gold
Prices have fallen in 2013, as an improved outlook for U.S. jobs boosted its stock market, and lowered demand for 'risk-off' assets like gold. The near-term outlook hinges largely on monetary policy and USD currency movements. In Dec-12, the U.S. Fed introduced its "economic thresholds" to guide $85B a month in bond buying.
An upward gold price push to $1750 a troy ounce is still expected by the London consensus through the end of 2013. Safe haven purchases of gold by investors could remain high due to uncertainty in Europe. Any rebound in the Chinese economy helps gold prices. Indian demand is set to moderate. It's government sought to reduce a record current account deficit by increasing the import duty on gold by 2% to 6% on Jan. 21.
Here is a recent note from Deutsche Bank. "That the U.S. appears the picture of stability and relative strength, has in our view, been a key contributor to the moribund performance of gold. Over the past month [of March 2013], gold ETF holdings have fallen over 6%, representing a liquidation of around 5 million ounces - the largest draw-down on record." A broad range for gold appears to be between $1550 a troy ounce and $1800 a troy ounce.
Silver
Silver's price dipped below the $30 a troy ounce mark at the start of 2013. Prices recovered in January to reach $35, after the U.S. fiscal cliff deal was announced. However, silver prices have cooled sharply again, as the USD, the currency in which silver trades, has strengthened.
These days, silver appears to generate stronger price moves than gold. Much depends on the broad U.S. outlook and movements in USD. China is the second largest silver market. Any upbeat industrial production data bodes well for silver demand in 2013.
Platinum
Platinum prices rallied throughout Jan-13 and the first half of Feb, hitting a peak of $1730 a troy ounce in March, before retreating. Supply concerns drove the gains. The world's largest platinum producer, Amplats, announced plans to slash output by -13% per year following labor unrest in South Africa and significant production losses in 2012.
Strong U.S. and global auto sales strengthen the value of platinum, which is used in catalytic converters in Europe and the U.S. U.S. demand for platinum may increase after new car sales jumped +14.2% y/y in January. The euro zone is the weakening region.
Palladium
Palladium was the best performing precious metal in Q4-12. It extended its gains in early 2013, hitting a recent high of $773 per troy ounce in Feb. The Chinese government is currently trying to combat dangerously high levels of pollution in its major cities. Demand for palladium in China could soar, as unlike in Europe, it can be used in emission control autocatalytic converters.
Palladium supply trailed demand by the greatest level in over a decade in 2012, due to earlier strikes and safety stoppages in South African mines, as well as reduced sales from Russian stockpiles. Palladium can be subject to supply concerns, due to only two major sources: Russia produces 51%, South Africa 35% of world output. On top of that, South Africa and Russia plan to form an OPEC-style cartel to coordinate exports of platinum and palladium.

#1 Way To Profit During The Coming Global Financial Apocalypse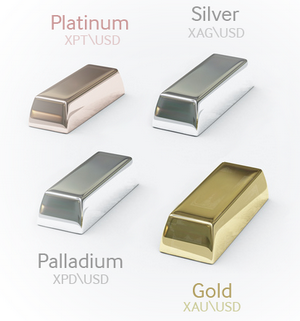 Intraday Forecasts on Gold Silver Copper and Aluminum
You get short, clear forecasts for the direction throughout the trading session, most with short-term Elliott wave-labeled charts. And you get precise support and resistance points, so you always stay in control of your position risk.

Instaforex Metatrader
Forex - Gold Silver Copper Oil - Commodities - Futures - NYSE CFD's
Industry standard Metatrader platform. ECN & Standard Spread Accounts. ECN Spreads As Low as 0.10 Pips. 3 Pip Standard Account Trading Spreads. Trade Gold Silver Copper Oil and Agriculture Commodities Also. Forex Analytics Buy Sell Trade Signals. Metatrader Expert Advisors Auto-Trading & Free VPS Service. Mobile SmartPhone Metatrader Software Trading. ForexCopy Trade Copier. Forex Training Course & Videos. Instaforex TV. Trading Contests. No Minimum Opening Account Balance. Easy Deposit Withdrawl. Earn Annual Interest Paid Monthly On Your Cash Account Balance. Swap-Free Accounts Available. Easy Online Adjustable 1:1 to 1:500 Leverage. Hedging Allowed. New Account Bonus Deposits. 24 / 6 Support

Gold Newsletter
USA & Canadian Gold ETF Trading Strategies and Signals
High probability stock, index, sector, commodity, bond, & currency ETF trade alerts. US trading signals, Gold & Silver - GLD, SLV, Gold Stocks - GDX, Crude Oil - USO, Natural Gas - UNG, Index Trading - DIA, SPY, Bonds, Foriegn Investments US & Canadian Stocks. Canadian trading signals, Gold & Silver - CEF.A, Gold Stocks - HGU, HGD, Crude Oil - HOU, HOD, Natural Gas - HNU, HND, Index Trading - XIU, HXU, HXD, Bonds, Foriegn Investments, US & Canadian Stocks.

By Wall Street Cheat Sheet
Join Chicago Mercantile Exchange commentator Eric McWhinnie as he covers Gold, Silver, Gold & Silver stocks, and miners. We look for companies that based on their price today are trading at a discount now or likely bigger discount 12 months from today. The takeover game is a huge part of the resource business. Quality undervalued companies will not remain so for long.