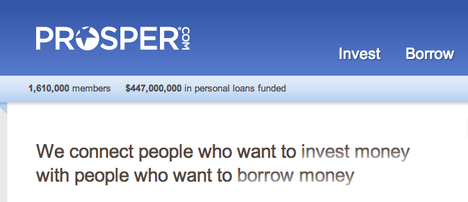 Personal loans meet online investing at America's leading online destination for borrowing money and investing in personal loans. It's peer to peer lending!
Prosper is America's first peer-to-peer lending marketplace, with more than 1.6 million members and over $400,000,000 in funded loans.
Prosper connects people who want to invest money with people who want to borrow money.
Easy way to invest in consumer lending
Monthly payments from creditworthy borrowers
Diversification for your investment portfolio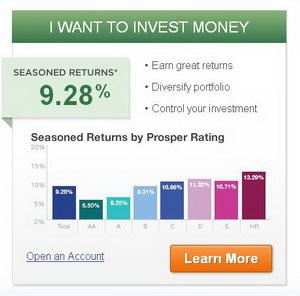 Peer-to-Peer Lending Means Everyone Prospers
Prosper is the market leader in peer-to-peer lending popular alternative to traditional loans and investing options. We cut out the middleman to connect people who need money with those who have money to invest . . . so everyone prospers!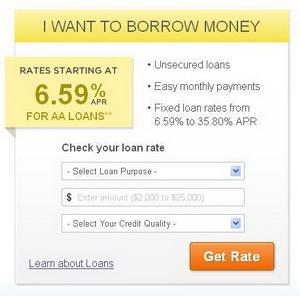 Here's How it Works:
Borrowers choose a loan amount, purpose and post a loan listing.
Investors review loan listings and invest in listings that meet their criteria.
Once the process is complete, borrowers make fixed monthly payments and investors receive a portion of those payments directly to their Prosper account.
Peer-to-Peer Lending for Your Investment Strategy
Why add Prosper to your investment portfolio?
High Yields Short Durations
Along with great returns and 1-, 3- and 5- year terms, Prosper Notes provide many portfolio benefits, ranging from current income to lower interest rate risk. This unique investment opportunity provides meaningful returns without locking up your money for long periods of time.
Proven Consistent Profitability of Consumer Credit
Lending to consumers is a decades-old industry that's produced profits year after year for a handful of credit card companies and banks. Prosper.com provides investors unprecedented access to this market, with consistent returns.
Monthly Cash Flow
Borrowers make monthly payments of principal plus interest that show up in your Prosper.com account. Create a passive income stream, or easily reinvest your cash earnings with our online investing tools like Quick Invest. Investment diversification
Diversify your portfolio by adding a new asset class-consumer loans-which is less vulnerable to market volatility than other investments.
Tax Advantages with the Prosper IRA1
Along with high-yields and consistent returns, enjoy tax advantages when you open your new or rollover Prosper IRA. See how fast your retirement savings can grow when you invest your Individual Retirement Account with Prosper.
Social Lending: Invest in People
Help hardworking families escape the credit card trap, fund an entrepreneur's dream, or finance a dream wedding -- while earning a healthy return. Through Prosper.com, borrowers get fixed-rate personal loans that are smarter alternatives to high-interest rate credit card debt that could take years to pay off.
With easy monthly payments of principal and interest to investors like you, borrowers get what they want without getting deeper into debt. Take a look at our loan listings. These are real people with real stories, wants and needs.
Company Overview
Prosper is America's first peer-to-peer lending marketplace, with more than 1.6 million members and over $400,000,000 in funded loans.
Prosper allows people to invest in each other in a way that is financially and socially rewarding. On Prosper, borrowers list loan requests between $2,000 and $25,000 and individual lenders invest as little as $25 in each loan listing they select. In addition to credit scores, ratings, and histories, investors can consider borrowers' personal loan descriptions, endorsements from friends, and community affiliations. Prosper handles the servicing of the loan on behalf of the matched borrowers and investors.
Prosper Funding LLC is a wholly-owned subsidiary of Prosper Marketplace, Inc.
Prosper Marketplace, Inc. is run by CEO Stephan Vermut, founder and former managing partner of Merlin Securities, a prime brokerage service based on cutting-edge technology. Prosper Marketplace, Inc.'s investors include Sequoia Capital, Accel Partners, and Benchmark Capital.
Click here to learn more about Prosper Funding LLC
Prosper Appoints Stephan Vermut CEO; Partners with Sequoia Capital
January 22, 2013- Prosper, a leading peer-to-peer financing platform to invest and borrow money, today announced it has appointed Stephan Vermut as Chief Executive Officer and member of the board of directors. The former founder and managing partner of Merlin Securities is a seasoned entrepreneur, corporate executive and technologist with more than 25 years of experience in financial services. Mr. Vermut succeeds Dawn Lepore, who has served as interim CEO since March 2012.
Prosper also announced it has named Ron Suber as Head of Global Institutional Sales, and that Aaron Vermut will join as President after a transition period with Wells Fargo. They will work closely with Mr. Vermut, and their new business partner Sequoia Capital, to accelerate Prosper's growth at a time when the market for peer-to-peer and business-to-peer finance is rapidly expanding. In support of the enhanced team, Sequoia led a $20 million round of financing, which also included participation from all existing investors. Sequoia Capital Partner Pat Grady will join the Prosper board of directors.
"I've watched with great interest over the past few years as the peer-to-peer lending industry has grown substantially, and I believe Prosper is in a unique position to offer both borrowers and lenders unprecedented access to financial opportunity," said Vermut. "Dawn and her team have attracted impressive talent and created the infrastructure needed to continue to build growth on both sides of the Prosper platform. I'm extremely optimistic about the potential for Prosper and the industry in general."
"We've made great progress recently as shown by our 100% year over year growth in revenue and loan originations. At the same time, we've also been carefully searching for the right person to lead Prosper as it moves towards its next phase of growth," said Lepore. "Steve is a talented leader, as proven by his success in founding and growing Merlin Securities, and he has a unique understanding of how technology can be used to disrupt and ultimately improve the financial services industry."
Mr. Vermut comes to Prosper from Wells Fargo, where he led the bank's first foray into prime brokerage services. At Merlin Securities, Mr. Vermut and his team created a superior prime brokerage service based on cutting-edge technology that allowed for a customized approach to managing investment portfolios. The firm established itself as a customer-friendly alternative to some of the biggest financial services institutions in the country.
Mr. Suber, former Managing Director at Wells Fargo Securities and Head of Global Sales at Merlin Securities, brings more than 20 years of experience in the financial services industry, including 14 years at Bear Stearns, and will be responsible for expanding Prosper's presence among institutional investors.
Aaron Vermut, currently Managing Director and Head of Prime Services at Wells Fargo, was a founder and Managing Partner at Merlin Securities. As President of Prosper, he will drive the strategic direction of the company, applying his experience in building a successful technology-driven, customer-centric business.
"Ron has deep and long standing relationships with many of the country's top money managers that will be a huge asset to Prosper as we further educate individual and institutional lenders on the benefits of these uncorrelated, consistent returns, as well as the borrowers to the reduced costs this platform offers," noted Vermut. "As President, Aaron will bring experience and expertise that will be instrumental in helping us realize the full potential of Prosper's business model."
About Prosper
Prosper is a leading peer-to-peer lending marketplace that connects people who want to invest money with people who want to borrow money. On Prosper.com, borrowers list loan requests between $2,000 and $25,000, and individual lenders invest as little as $25 in each loan listing they select. Over the past six years, more than $400,000,000 in personal loans have originated through the Prosper platform. The unsecured personal loans are used by Prosper borrowers for a variety of purposes including paying down high interest rate debt and helping with small business funding.