Top 3 Technical Tools Part 2: Relative Strength Index (RSI) by Elliottwave International
"There are many different forms of technical analysis. A completed Elliott wave pattern supported by additional evidence allows for more confident forecasts and higher probability trades." - Jeffrey Kennedy
Trader and technical analyst Jeffrey Kennedy has more than 25 years of experience using with the Elliott Wave Principle. To support his Elliott wave analysis, Jeffrey says that his 3 favorite technical tools are Relative Strength Index (RSI), MACD, and Japanese candlesticks.
This 3-part series includes Jeffrey's practical lessons and proven techniques to support his wave counts (read Part 1 here >>). Today's video clip shows you how RSI and range rules can help identify trading opportunities: Part 3 will cover MACD.
Jeffrey's second lesson, excerpted from his Elliott Wave Junctures educational service, gives an overview of RSI followed by a video example.
Buying pullbacks in uptrends and selling bounces in downtrends are great ways to trade trending markets.
Developed by J. Welles Wilder, Jr. and presented in his 1978 book, "New Concepts in Technical Trading Systems," RSI measures the strength of a trading vehicle by monitoring changes in closing prices and is considered a leading or coincident indicator. Andrew Cardwell popularized RSI as a trading tool by introducing the concept of range rules.
The theory behind range rules is that countertrend price action in trending markets has specific momentum signatures. RSI, for example will find support within roughly the 50-40 region when pullbacks in uptrends occur. Conversely, when bounces develop in downtrends, RSI will meet resistance in the 50-60 area.
Taking the path of least resistance is a benefit of trading in the direction of the trend. Moreover, the use of RSI and application of Andrew Cardwell's range rules help identify when a trader can rejoin the trend.

Steve Nisons Candlestick Charting Intensive Training and Software
for Profitably Trading Stocks Forex Futures Commodities
Use the CandleScanner trading software to automatically scan for profitable trading setups on any timeframe. Stock forex and futures candlestick trading courses to throughly understand how to profit from candlestick chart patterns. Free newsletter and live trading webinars. Steve Nison is the authority on trading and profiting using candlesticks.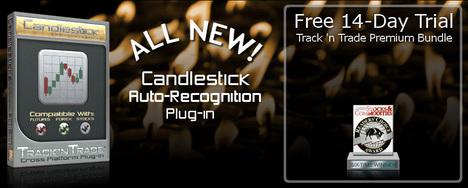 Track n Trade CandleStick Auto-Recognition Plug-in
Quickly identify candlestick patterns without thinking. With Track 'n Trade, you have the ability to click, and select your favorite candle patterns, and have Track 'n Trade find, identify, and even auto-trade each signal through our famed Autopilot Trading System.