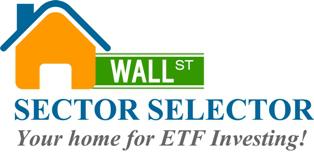 Wall Street Sector Selector
Free email newsletter. John Nyaradi is Publisher of Wall Street Sector Selector: Professional ETF Trading, an online publication specializing in news, analysis and information regarding exchange traded funds. John's writes a weekly column for Investor's Alley, a widely read internet site, and his investment articles have appeared in many online publications including Dow Jones Market Watch, Trading Markets, Money Show, Yahoo Finance, Investors Insight, Fidelity, SeekingAlpha, ETF Daily News, iStock Analyst and many others.
June 19, 2013 - Stock Sector Strength Charts: Where's the Investing Opportunity Now? by - By Zacks Investment Research
We know the sectors that have lead us to new all-time highs in the S&P 500: Financials, Consumer Discretionary, and Healthcare.
And we know through bottom-up stock-picking why these have been leaders: their industries and companies have had the consistently-strongest earnings momentum.
Here's a performance view of the 9 SelectSector SPDRs this year.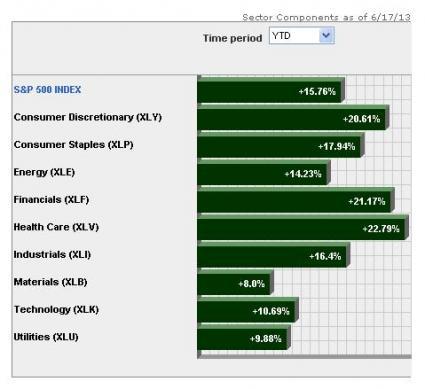 But another way of looking at where the money is flowing is by comparing the relative strength of sectors to the index and to each other.
Below are two "sector ratio" charts plotting Financials (NYSEARCA:XLF) and Consumer Discretionary (NYSEARCA:XLY) against the S&P 500 tracking ETF (NYSEARCA:SPY), and vs. the index. I left out Healthcare (NYSEARCA:XLV) because I've talked about that one so much recently in biotech articles.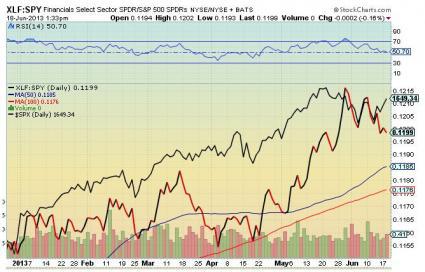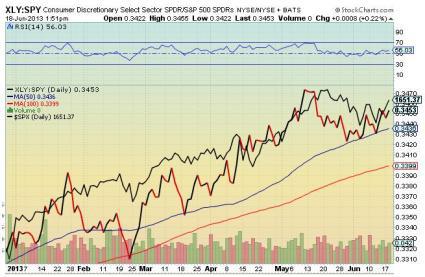 Next, let's look at two of the laggards, Technology (NYSEARCA:XLK) and Industrials (NYSEARCA:XLI), but this time on a 3-year chart so you can see more recent history of their ratio to SPY.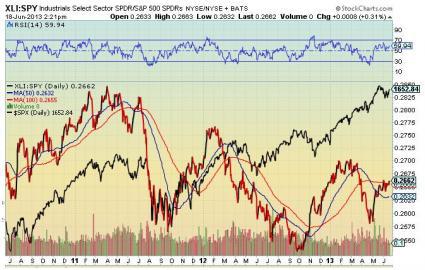 Finally, below is the Consumer Staples (XLP - ETF report) chart, which had a terrific first quarter and helped drive the index higher. Then, two things happened.
First, if institutions were hiding out in the safety and yield of Staples to avoid a market downturn, they missed lots of alpha elsewhere. And, second, when dividend-payers were hit on fears of rising interest rates, money hiding there was forced to reallocate.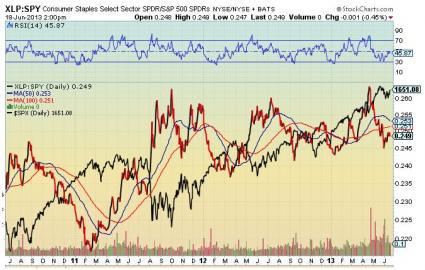 The reason I like to look at a 3-year chart here is for perspective on when the market rallies or corrects relative to XLP strength or weakness.
By the way, you can also plot these charts as sector vs. sector to see where their relative strength comes up in the past against the index. But I think it's intuitive from the above charts that the leaders would show high relative strength vs the laggards in just about any time frame this year.
Okay, enough chart stuff. Whether or not I added anything to your outlook about "sector relativity," I'm sure you have views about which sectors and industries will lead the market to new highs in the second half.
So let's hear it . . . Are you ready to bet on Tech and Industrials yet, or are you sticking with the leaders that got us here? Get as industry-specific as you want if you've done particular screening for earnings momo by company and/or sub-industry.

Profit From Zacks Investment Research Earnings Estimates Revisions
Free Trial
of Zacks a leading investment research firm focusing on equities earnings estimates and stock analysis for the individual investor, including stock picks, stock screening, portfolio stock tracker and stock screeners. "Earnings estimate revisions are the most powerful force impacting stock prices" Zack Investment Research Founder Leonard Zacks, Ph.D. Mathematics M.I.T.

Market Timing Signals & ETF Sector Rotation Investment Newsletter
The strategy behind the Sector Timing Report is a process of continuous upgrading your investment holdings to maximize portfolio returns. Our upgrading strategy works because as economic and market conditions change, new sector leaders rise to the top of our proprietary sector scoring system. We buy these top ranked sectors and hold them for as long as they outperform their sector peers. When a holding starts to drop in rankings we sell it and move on the the next hot sectors in the market. Rebalancing our holdings monthly keeps us in the latest leadership sectors at all times.