Groupon: What Wall Street Missed Again by Market Authority
Over the last week, the Hindenburg Omen popped up three times...
That's not normal.
The Hindenburg usually says there could be a 77% chance of a 5% sell off; a 41% chance of a panic sell off; and a 24% chance of a major crash...
Every crash going back to 1985 was preceded by the Omen.
Run and hide... Run and hide.
But that's not the worst of it, apparently.
First, known bear Marc Faber is predicting a 1987-style crash in coming months.
The only way this could happen, though, is if Larry Summers takes over at the Fed, killing off dovish sentiment.
Second, there are high levels of margin debt, which can precede massive sell offs. Margin debt preceded the crashes of 2000 and 2008.
And stocks are overbought.
Nothing is set in stone. Nothing is a 100% guarantee. All we can do is take life day by day and wait.
Life's too short to worry.
Other than that, here's why I refuse to listen to overpaid analysts any more.
"I still laugh when I see this chart... and realize how clueless Wall Street really is," I said in late April 2013 right before buying January 2014 Groupon calls.
"The stock - once referred to as a "goner" by "smart" analysts - now trades above $6.30. Wells Fargo, Bank of America, and Raymond James decided they'd downgrade the stock after earnings and miss the ensuing rally."
"If they were smart," I said, "they would have upgraded the stock shortly after the CEO departure news. But what do you expect from overpaid "smart" analysts that are "looking out for YOUR best interests."
Even UBS initiated a Sell rating on the stock on April 1 just below $6. Too funny...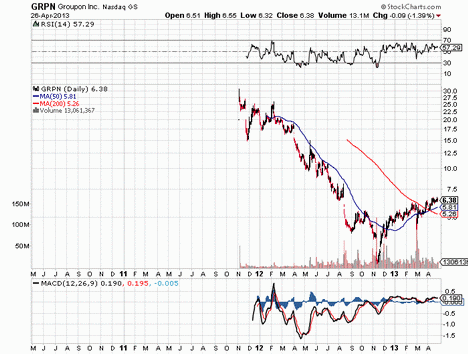 By August 9, 2013, the stock ran to $11 a share, proving once again that Wall Street isn't paying attention much anything these days.
Wall Street literally missed the buying opportunity of a lifetime, as a new CEO was named; as earnings beat estimates; and as it announced a $300 million share buyback plan.
This is yet another reason why Wall Street analysts are worthless and over-paid.
Click here to start your trial of the Speed Retirement System.