Euro continues to move higher above 1.36 as U.S. government shutdown for a third day and Volatility (fear) Index in US hit a two-month high.
Asian shares: Japan's Nikkei -0.94%, Hong Kong's Hang Seng -0.39%(07:10 GMT), Korea's Kospi -0.12%, Australia's ASX 200 -0.50%.
IMF's Lagarde: The U.S. debt limit fight has the potential to "very seriously damage" the U.S. and global economies just as there are signs a solid recovery is beginning to emerge, and it is critical the situation is resolved quickly
IMF Survey, Lagarde: Countries will need to adopt strong national policies and work together even more closely to manage new transitions under way in the global economy. "The transitions I am talking about today are different," Lagarde told the audience. "They will likely play out over the rest of the decade, if not longer. And they will require not only active national policy management, but also active international policy collaboration." "These new global transitions need a new global agenda," "With the right policies, these transitions can be managed," "But of course, they can be derailed by the wrong policies."
German Producer prices fell by 0.5% from the corresponding month of the preceding year. While prices of consumer non-durable goods increased by 2.6% prices of energy were 2.0% low and intermediate goods, 1.5% low compared with August 2012.
U.S. stocks retreated for a second straight day on Thursday as the shutdown dragged on and the dollar weakened broadly. While the selling has been orderly so far, investors see anxiety rising if the weekend arrives without any sign of a political deal.
The CBOE Volatility Index, the world's best-known fear gauge, hovered around 17 on Thursday, roughly a two-month high but still a far cry from 48, where it peaked in 2011, the last time Congress threatened not to raise the debt ceiling.
The Bank of Japan refrained from adding to unprecedented monetary stimulus after business confidence surged and Prime Minister Shinzo Abe decided the economy was strong enough to weather a sales-tax increase. Governor Haruhiko Kuroda's board retained a goal of expanding the monetary base by 60 trillion to 70 trillion yen ($720 billion) a year, the central bank said in Tokyo today. The yen strengthened against the dollar after the announcement.
BOJ's Kuroda says current monetary policy is enough to meet BOJ targets.
The BOJ maintained its view that the Japanese economy is recovering moderately, according to the statement. " Business fixed investment has been picking up," and "housing investment has also increased," the bank said, changing the wording slightly. The central bank will continue its monetary easing as long as needed to achieve stable 2 percent inflation, making policy adjustments as appropriate, according to the statement.
Japan economy will contract an annualized 4.5 percent in the second quarter of 2014 before returning to growth, according to the median estimate of economists in a survey. The poll was mostly conducted before the 5 trillion stimulus package was announced.
Watch today: Fed speakers, US CDS & shutdown.
Click the Links Below to Review Forex Signals FX Brokers and Trading Education Courses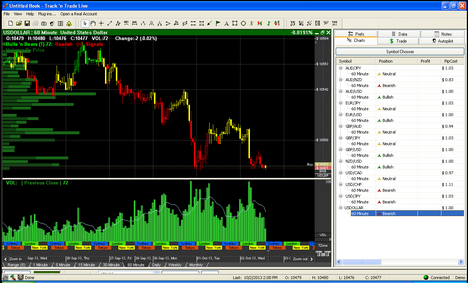 Track n Trade Live Forex Bulls Bears Signals
Bulls 'n Bears. Proprietary formula generates user-definable Buy/Sell signals. Red Light/Green Light system identifies trends. Ribbon indicator displays trend strength. Advantage Lines. Japanese Candlestick Auto-Recognition. Automatically identify and catalog candlestick formations. User-Definable Buy/Sell Signals with candlestick patterns. Apply external filters to help eliminate unwanted or overly aggressive signals. Autopilot forex trading. Back-test your favorite systems. Any changes to settings update automatically on-the-fly.

Forex Buy Sell Signal Alerts Free Trials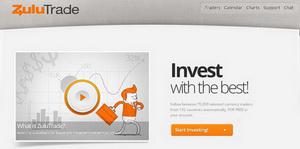 ZuluTrade Forex Accounts from Multiple Brokers All with Free Buy Sell Signals
Autotrade the Forex market like never before! Let ZuluTrade drive trades by specialists into your FX account for free. ZuluTrade bridged the gap between valuable information in money markets and trade execution, by converting the advice of professional and talented traders globally to an executed trade rapidly and automatically in your account.
Van Tharp Institute
Investing Trading Home Study Programs & Live Seminars Workshops
Dedicated to cutting edge, high quality professional educational investing trading programs for traders and investors providing a road map for financial freedom. The finest investing trading education in the financial universe. Dr Van Tharp is one of the orginal Market Wizards, and referred to as the Traders Coach.
Steve Nison Candlecharts Forex Candlestick Charting Training Mega-Course
NEW candle pattern insights, such as the order of power of candle signals so you'll know how much confidence to have in any candle setup. NEW trading psychology revelations, lets you quickly and accurately read the market's message to accelerate your analysis. NEW simple-to-follow systems, like my simple 5-Step Trading Checklist to give you a step-by-step method of maximizing your opportunities for success. Candlestick Trading System for Beginners to Pro-Traders. It doesn't matter if you're a complete beginner or pro-trader. These new DVD Training Programs will give you the Simple Candlesticks "4-Step Success System"