The Euro trade stable at 1.35 level and dollar pulled further away from an eight-month low, as investors grew hopeful that Washington will end the political wrangling and break the U.S. fiscal impasse that has sapped market confidence.
Asian shares: Japan's Nikkei 1.12%, Hong Kong's Hang Seng -0.77%(07:10 GMT), Korea's Kospi -0.07%, Australia's ASX 200 -0.10% and China's Shanghai -0.94%.
French manufacturing output improved slightly +0.3% in August.
ECB Executive Board member Benoit Coeure said in Geneva yesterday that the debate on further long-term loans isn't a pressing one. It "is an important discussion to have to prepare in case we would see money-market rates being too volatile or moving toward levels not being consistent with our forward guidance," he said. "As long as money-market rates aren't moving, I don't see a need to act. So it's an important discussion, it's an ongoing discussion on the Governing Council, but it's not an urgent discussion."
The European Central Bank's next monetary-policy move will be a non-standard one, economists say. While almost three in four of them predict President Mario Draghi will unveil new liquidity measures such as longer-term refinancing operations, the majority of forecasters say interest rates will remain unchanged through the first half of 2015.
The Federal Reserve's minutes from its September meeting showed that most members of the central bank's policy committee thought they needed more evidence of sustainable economic progress, though the Fed said it was a "relatively close call" for several voters.
Markets expected that a deal between the Republicans and Democrats would be reached by an October 17 deadline to raise the debt ceiling, despite the partisan politics, although their nerves are tested each day that passes without an agreement. Republicans are considering signing on to a short-term increase in the government's borrowing authority to buy more time for negotiations on broader policy measures, according to a Republican leadership aide. It is unclear how long the increase would be effective for, but any move to raise the borrowing limit would at least stave off for now a possible debt default after the October 17 deadline.
Premier Li Keqiang said China is paying "great attention" to the U.S. debt-ceiling issue, adding his voice to official concern that wrangling over a borrowing limit risks a default.
Japanese consumer confidence rose in September, posting the first gain in four months, in a sign positive effects from the government's reflationary policies are being sustained. The sentiment index for general households, which includes views on incomes and jobs, was 45.4 in September, up from 43.0 in the previous month.
As the U.S. fiscal crisis escalated, Japanese investors sold a record amount of foreign bonds on a net basis last week, offloading nearly $23 billion worth.
Australia's unemployment rate unexpectedly declined in September, adding to evidence a two-year interest rate cutting cycle is boosting demand. The jobless rate dropped to 5.6 percent from 5.8 percent.
Brazil raises benchmark lending rate 50 basis points to 9.50%.
U.S. crude prices added 0.2 percent to about $101.8 a barrel. Prices had tumbled 1.9 percent on Wednesday after the largest weekly buildup of U.S. stocks in a year.
Watch today: French production, US consumer.
Click the Links Below to Review Forex Signals FX Brokers and Trading Education Courses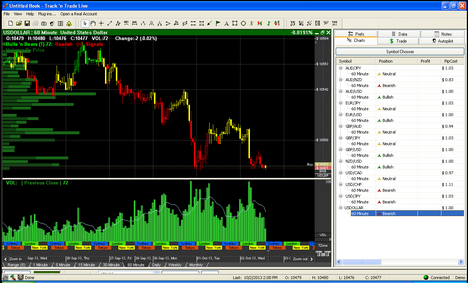 Track n Trade Live Forex Bulls Bears Signals
Bulls 'n Bears. Proprietary formula generates user-definable Buy/Sell signals. Red Light/Green Light system identifies trends. Ribbon indicator displays trend strength. Advantage Lines. Japanese Candlestick Auto-Recognition. Automatically identify and catalog candlestick formations. User-Definable Buy/Sell Signals with candlestick patterns. Apply external filters to help eliminate unwanted or overly aggressive signals. Autopilot forex trading. Back-test your favorite systems. Any changes to settings update automatically on-the-fly.

Forex Buy Sell Signal Alerts Free Trials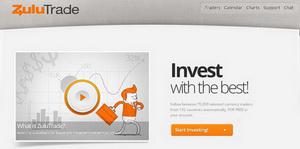 ZuluTrade Forex Accounts from Multiple Brokers All with Free Buy Sell Signals
Autotrade the Forex market like never before! Let ZuluTrade drive trades by specialists into your FX account for free. ZuluTrade bridged the gap between valuable information in money markets and trade execution, by converting the advice of professional and talented traders globally to an executed trade rapidly and automatically in your account.
Van Tharp Institute
Investing Trading Home Study Programs & Live Seminars Workshops
Dedicated to cutting edge, high quality professional educational investing trading programs for traders and investors providing a road map for financial freedom. The finest investing trading education in the financial universe. Dr Van Tharp is one of the orginal Market Wizards, and referred to as the Traders Coach.
Steve Nison Candlecharts Forex Candlestick Charting Training Mega-Course
NEW candle pattern insights, such as the order of power of candle signals so you'll know how much confidence to have in any candle setup. NEW trading psychology revelations, lets you quickly and accurately read the market's message to accelerate your analysis. NEW simple-to-follow systems, like my simple 5-Step Trading Checklist to give you a step-by-step method of maximizing your opportunities for success. Candlestick Trading System for Beginners to Pro-Traders. It doesn't matter if you're a complete beginner or pro-trader. These new DVD Training Programs will give you the Simple Candlesticks "4-Step Success System"