The euro gained to $1.3820 level, the strongest since November 2011 and European stock-index futures rose as better-than-estimated Chinese manufacturing countered a surge in the nation's money market rates.
Asian shares: Japan's Nikkei 0.42%, Hong Kong's Hang Seng -0.74%(07:00 GMT), Korea's Kospi 0.54%, Australia's ASX 200 0.32% and China's Shanghai -0.86%.
French private sector output was stable at the start of the fourth quarter of 2013. The Markit Flash France Composite Output Index , posted 50.1 in October , down slightly from 50. 5 in September, signaling broadly no change. Growth of business activity in the service sector eased to a fractional pace in the latest survey period.
ECB's Mersch sees end of Euro-area fragmentation.
Fitch affirms Portugal at 'BB+', outlook negative.
European Central Bank President Mario Draghi said officials won't hesitate to fail banks in its stress test next year as the ECB sets out to prove its vigilance in its new role of banking supervisor. "Banks do need to fail," to prove the credibility of the exercise.
The era of easy money is shaping up to keep going into 2014. The Bank of Canada's decision yesterday to drop language about the need for future interest-rate increases unites it with other central banks reinforcing rather than retracting loose monetary policy. The Federal Reserve delayed a pullback in its monthly asset purchases, while emerging markets from Hungary to Chile cut borrowing costs in the past two months. Policy makers are reacting to another cooling of global growth, led this time by weakening in developing nations while inflation and job growth remain stagnant in much of the industrial world. The risk is that continued stimulus will inflate asset bubbles central bankers will have to deal with later. Already, talk of unsustainable home-price increases is spreading from Germany to New Zealand, while the MSCI World Index of developed-world stock markets is near its highest level since 2007.
Japanese Prime Minister Shinzo Abe said today he plans to use higher-than-expected tax revenue to fund economic stimulus spending rather than relying on issuing new debt. Abe was speaking in the upper house budget committee. The government will announce in early December details of a 5 trillion yen ($51 billion) economic stimulus package meant to offset the drag from an increase in the sales tax next April.
Strong new orders drove the fastest expansion in China's manufacturing sector in seven months in October, a preliminary survey showed, more evidence that the economy is stabilizing although a strong rebound remains elusive. The flash PMI figure, the earliest reading of China's monthly economic performance, offers some positive news after disappointing export figures and September's manufacturing PMI, which had shown weak domestic demand. The PMI stood at 50.9 in October, above September's final reading of 50.2.
The currencies of commodity-exporting countries climbed and China's yuan touched a 20-year high of 6.0815 after the manufacturing report.
New Zealand's dollar strengthened against almost all 16 major peers, climbing to 84.45 U.S. cents after tumbling 1.4 percent yesterday, the most since August and the steepest decline among 16 major currencies
Watch today: EU PMI, US jobless claims, US PMI.
Click the Links Below to Review Forex Signals FX Brokers and Trading Education Courses

Forex Buy Sell Signal Alerts Free Trials

Forex Sensation Expert Advisors Championship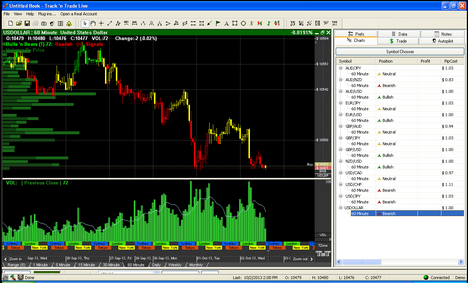 Track n Trade Live Forex Bulls Bears Signals
Bulls 'n Bears. Proprietary formula generates user-definable Buy/Sell signals. Red Light/Green Light system identifies trends. Ribbon indicator displays trend strength. Advantage Lines. Japanese Candlestick Auto-Recognition. Automatically identify and catalog candlestick formations. User-Definable Buy/Sell Signals with candlestick patterns. Apply external filters to help eliminate unwanted or overly aggressive signals. Autopilot forex trading. Back-test your favorite systems. Any changes to settings update automatically on-the-fly.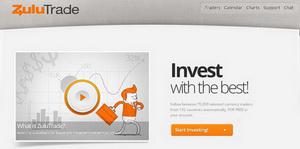 ZuluTrade Forex Accounts from Multiple Brokers All with Free Buy Sell Signals
Autotrade the Forex market like never before! Let ZuluTrade drive trades by specialists into your FX account for free. ZuluTrade bridged the gap between valuable information in money markets and trade execution, by converting the advice of professional and talented traders globally to an executed trade rapidly and automatically in your account.
Van Tharp Institute
Investing Trading Home Study Programs & Live Seminars Workshops
Dedicated to cutting edge, high quality professional educational investing trading programs for traders and investors providing a road map for financial freedom. The finest investing trading education in the financial universe. Dr Van Tharp is one of the orginal Market Wizards, and referred to as the Traders Coach.
Steve Nison Candlecharts Forex Candlestick Charting Training Mega-Course
NEW candle pattern insights, such as the order of power of candle signals so you'll know how much confidence to have in any candle setup. NEW trading psychology revelations, lets you quickly and accurately read the market's message to accelerate your analysis. NEW simple-to-follow systems, like my simple 5-Step Trading Checklist to give you a step-by-step method of maximizing your opportunities for success. Candlestick Trading System for Beginners to Pro-Traders. It doesn't matter if you're a complete beginner or pro-trader. These new DVD Training Programs will give you the Simple Candlesticks "4-Step Success System"