USA Jobs Data: When Bad News is Good News By Market Authority
Friday morning provided a look at the US unemployment situation for December, and the news was abysmal. The economy only created 74,000 jobs, much lower than expectations of 196,000. The Unemployment rate dropped from 7.0% to 6.7% not from new jobs created, but because people continue to drop out of the workforce faster than expectations.
For stock investors, bad news is good news. It allows the Fed to push more stimulus through Quantitative Easing. A terrible labor market justifies continuation of asset purchases by the Fed, and means there's less chance of tapering these asset purchases.
Imagine a scenario if the jobs data had crushed expectations, and added 300,000 jobs. On the surface, this would appear to be great news for the economy. However, the corresponding jump in interest rates would ignite fears that the Fed is losing control of all the liquidity they've added to the system. This spurt in economic growth and labor market tightening would ignite inflationary fears. And since the inflation data has been non-existent, this is a risk that would catch both investors and the Fed from the blind-side.
The idea that inflation is lurking around the corner is a real risk to the market and the news will be met with a sharp pullback as fears of inflation are non-existent. You can see this in the performance of typical inflation hedges, such as Gold. Here's a 52 week chart of the GLD.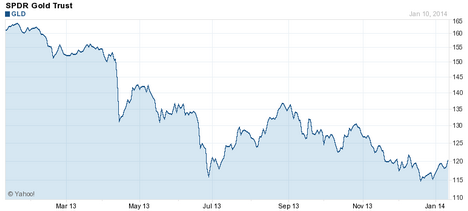 The terrible performance of Gold demonstrates that nobody is thinking about inflation, and any rise in uncertainty would surely frighten the markets.
This is the economic world we currently live in- good news is bad news and bad news is good news.
Click Here to Review More Financial Intelligence
Van Tharp Institute
Investing Trading Home Study Programs & Live Seminars Workshops
Dedicated to cutting edge, high quality professional educational investing trading programs for traders and investors providing a road map for financial freedom. The finest investing trading education in the financial universe. Dr Van Tharp is one of the orginal Market Wizards, and referred to as the Traders Coach.