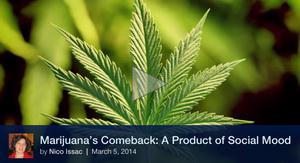 Marijuana's Comeback: A Product of Social Mood by Elliott Wave International
Socionomics has stayed one step ahead of the radical move to legalize -- and monetize -- it
I'm a joker, I'm a smoker, I'm a midnight… Broker?
It's been 40 years since the Steve Miller Band released their hit song "The Joker" about the rebellious act of illegally toking (i.e. smoking pot) in the stealth of night.
But now in 2014, it's becoming a lot less necessary to hide one's drug habit. In Colorado and Washington State, adults 21 years and older can, in broad daylight, walk right into the many recreational marijuana stores and legally purchase the wacky tobacky strain of their choice.
At the same time, 20 states and counting have legalized the use of medical marijuana. All of which has stoked a resurgence in over-the-counter trading of cheap, cannabis-related companies, such as Hemp Inc. (OTCPK:HEMP) -- whose own chief executive spent eight years in federal prison for pot smuggling.
For those who just say nope to dope, this age of pot permissiveness may feel like a bad trip.
But we know there's nothing wacky or surprising about the full-scale need to legalize weed. In the July 2009 Socionomist newsletter, editor Euan Wilson warned that, where there was the smoke of marijuana reform, there would eventually be a blazing fire of decriminalization and speculation.
Here is an excerpt from Wilson's Socionomist report titled "The Coming Collapse of Modern Prohibition."
History shows that mood governs society's tolerance for recreational drugs. Social mood influences people's actions and their social judgments. In times of positive mood, people can afford to express the black and white moral issues preferred during bull markets, and drug abuse is a favorite target. During times of negative mood, on the other hand, society's priorities change. People have other, bigger worries and begin to view recreational drugs as less dangerous, if not innocuous, in offering stress relief, pain reduction, and the ability to cope with the pressures of negative social mood. Over the past 100 years, governmental activities have manifested these changing attitudes. During periods of rising mood, policymakers stepped up regulation of cannabis. During periods of falling mood, they eased those same stances.
The public will become open to what now may seem like radical ideas about how best to deal with marijuana use in society.
Our research shows that, since 2000, social mood has been trending negatively for a prolonged period. While stocks have registered new nominal highs, they are still well off 2000's high in inflation-adjusted (real) terms. The trend towards decriminalization that has followed supports this case.
In the years between 2009 and 2013, the rising tide of the pro-pot movement swept politicians, physicians, and the American public alike into its fold. In 2009, 42% of Americans supported the legalization of marijuana. In 2013, that number leapt to 58%, the first majority in the 44-year history of the Gallup Poll tracking this data.
Then, the November 2013 Socionomist revisited the scene and described another facet of the frenzy
Meanwhile, marijuana stocks and myriad peripheral industries offer new risks and opportunities to U.S. speculators. The chart below shows the sharp rallies under way in the top three penny pot stocks,Medical Marijuana Inc. (OTCPK:MJNA), MediSwipe Inc. (MWIP), and Nuvilex Inc. (NVLX).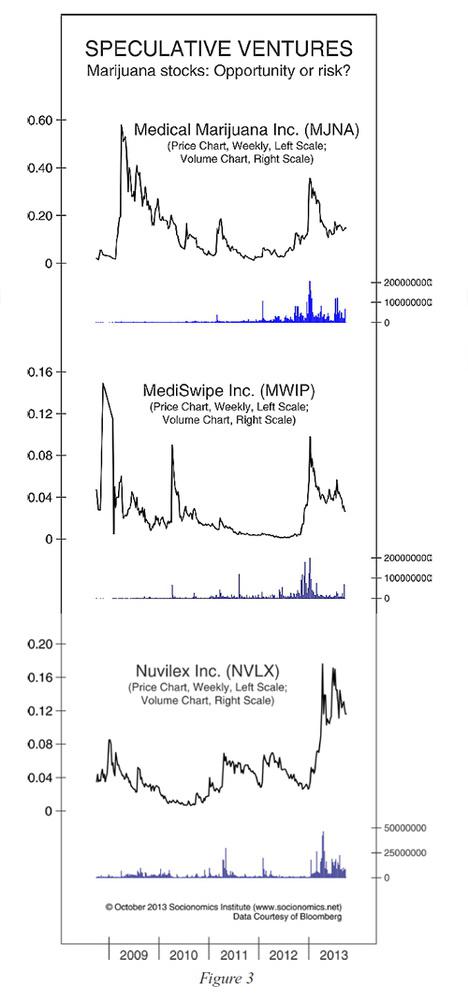 In the three months since this chart was published, all three stocks have been flying higher than a kite in outer space. Medical Marijuana has gained, 200%, MediSwipe Inc is up 300%, and Nuvilex Inc up an incredible 2400%. Says one recent news source:
"The demand for marijuana is insatiable. You have a feeding frenzy for the birth of a new industry." (Bloomberg, Jan 9, 2014)
The peer pressure to invest in the growing number of cannabis-related stocks is mounting, and it's getting harder and harder to keep a clear head amidst the haze of speculation. Page two of the latest Socionomist reveals our choice for one of the most successful and objective resources for navigating the sector -- a 20-year Wall Street Veteran whose new business venture has become the "the go-to place for Green Rush investors to learn together and explore marijuana investment opportunities."
Click here and follow the easy steps toward a risk-free subscription to the monthly Socionomist.