These Stocks are 2014's Momentum Mean Girls by Market Authority
Every bull market has its "momentum darlings:" stocks that command insanely high valuations and outperform the rest of the market. Momentum darlings are like the popular girls in high school. Their attractiveness makes them popular and their popularity makes them more attractive.
As a popular stock goes up in price it becomes more attractive. This creates a virtuous cycle where investors are willing to pay (seemingly) ridiculous valuations to own an asset moving higher.
The momentum darlings of this current era NFLX, DDD, TSLA, LNKD, PCLN, etc. resemble those of previous bull markets. The names and faces may have changed, but the attitudes still remain the same. Remember the late-90s sky-high valuations of MSFT, INTC, ORCL, CSCO? Once the luster wore off these high-flyers, they underperformed for a decade.
MSFT still hasn't reached its late-90s price.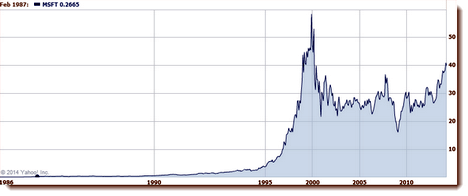 Or how about the momentum darlings of the dot-com era? Here's a chart of YHOO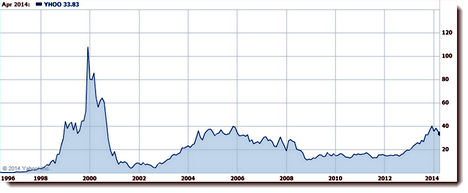 These momentum darlings all have one commonality - a valuation that's divorced from reality. Once the stock enters a period where investors are indifferent to valuation, the stock price is determined by its ability to attract new buyers who are willing to pay increasingly higher valuations to get in on the momentum. This is when the momentum darling enters the bubble phase.
Here are the prerequisites of momentum darlings:
1. A disruptive narrative with promise of future growth- "XYZ stock will change the online mail-order bride business forever. Their earnings may be terrible now but just wait until the Ukrainian women start signing up!" This narrative is widely promoted throughout the financial media, especially by money managers that benefit from the free advertising.
2. A stock price that outperforms the overall market and continues to move higher. "The market was up 30% last year, but XYZ was up 350%."
3. An abundance of short-sellers trying to knock the stock down. The shorts become kindling for the next rally as new 52-week highs converts shorts into buyers.
4. A fanatical, devoted following that becomes emotionally involved with the stock (hence, the term "darlings").
Here are the P/E ratios for a few of the current momentum darlings:
NFLX 186
LNKD 778
DDD 120
AMZN 550
TSLA N/A (not profitable yet)
S&P500 average = 17
Similar to the inflated egos of the popular clique in high school, momentum stock valuations are separated from reality. Since high valuations tend to move higher, top-calling can be very dangerous to your portfolio. Furthermore, a well-reinforced virtuous cycle does not break down easily. When investors are consistently rewarded for buying high and selling higher, their behavior is likely to continue.
Next, we'll look at some signs that show when momentum is fading.
Van Tharp Institute
Investing Trading Home Study Programs & Live Seminars Workshops
Dedicated to cutting edge, high quality professional educational investing trading programs for traders and investors providing a road map for financial freedom. The finest investing trading education in the financial universe. Dr Van Tharp is one of the orginal Market Wizards, and referred to as the Traders Coach.
Stock Option Forex Futures Trading Seminars Webinars Workshops Events
Click Here For The Complete 2014 Schedule