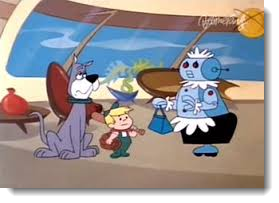 Here's the Next Big Thing in Technology by Market Authority
There's an arms race happening to control of every aspect of your daily life. No, this has nothing to do with King Putin's attempted annexation of Ukraine. What I'm talking about is the brewing battle among the largest tech companies in the world to control the "Internet of Things" (a.k.a. IoT). The IoT refers to a new generation of household appliances connected to us through technology (thus making them "smart"). Things that monitor us, understand how we behave and adapt to make our lives a little easier.
Households won't have a "Rosie the robot" housekeeper just yet, but every appliance in your home will soon have the capacity to understand your daily routine and be remotely accessed from anywhere. Thermostats that know when to raise the temperature so you can get out of bed in the morning, front doors that let UPS drop packages inside while you're at the office, and cars that advise you to take a different route due to an accident down the road. These are just a few examples of how connected technologies will optimize and improve our daily lives.
Here's a chart from BI Intelligence which shows the huge growth in the IoT in the next few years: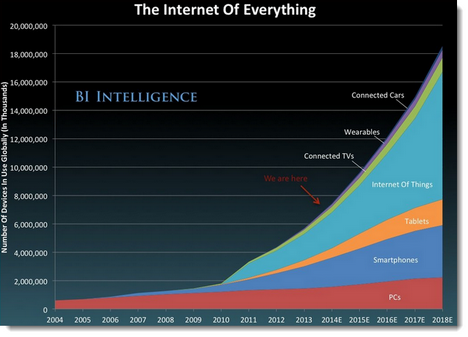 IoT is the next big thing in tech and the major players are rapidly building war chests. Google acquired smart thermostat maker Nest for $3.2 billion. They also paid $1.2 billion for Waze, which uses shared driving data to provide the best route. Facebook bought Oculus for $2 billion and plans to connect 1 billion people via virtual reality. Amazon introduced a new cloud concept, Kinesis, to individually store all of your data. Just a few days ago, Cisco invested $150mm in a group of IoT startups.
While many of these new technologies will fail, it will be fascinating to see how smart devices reshape our world. Only time will tell. Suffice to say that time will be on a watch much smarter than the one you're currently wearing!
Click the Links Below to Review Investing Trading Products and Services You Can Use on Your Android Apple Tablets and Smartphones
Zacks Investment Research Mobile Free Trial
$FB Facebook Stock on The Social Investment Network eToro OpenBook
New Age Forex Stocks Futures Social Investing Trading with eToro OpenBook
InstaForex Mobile Trading
Trade All Markets From One Account. Forex - NYSE CFD's - Gold Silver Copper - Commodities - Futures. Trading platform InstaTrader is the most dynamically developing trading platform based on MetaTrader 4 terminal. Using InstaForex gives you the opportunity to invest trade in 107 currency instruments, 34 NYSE CFD contracts on American shares, and trade Gold Silver Copper.
Morningstar Investment Research Mobile Free Trial
CNNMoney Top Investing App
ZuluTrade Forex for Mobile
Autotrade the FOREX market like never before! Let ZuluTrade drive trades by specialists into your FX account For Free. ZuluTrade bridged the gap between valuable information in money markets and trade execution, by converting the advice of professional and talented traders globally to an executed trade rapidly and automatically in your account.

TradeKing Mobile Trading
Save An Average Of 56% In Stock Trading Commissions And 52% In Option Trading Commissions When You Switch To TradeKing. At TradeKing, you'll pay just $4.95 per trade, plus 65 cents per option contract - even for broker-assisted trades.
AVATrade Mobile Trading
Award Winning Online Forex Trading Platform. Invest Trade Forex Stock Indices Commodities and Metals from One Platform. Fixed spreads. Free advanced online forex trading tools. Dozens of currency pairs and metals. Daily exclusive institutional analysis. 24-Hour trading and support. Trade immediately by credit card, PayPal or WebMoney. Start trading forex with as little as $100. 200:1 leverage. No commissions or fees. Euro or US Dollar trading account. Withdraw instantly with Ava Debit Card.
Firstrade Mobile Trading
Learn About Online Investment Opportunities with Firstrade Securities. 250 Free Trades - Transfer Rebates - Cashback Bonus. 25 years of service. Firstrade is a leading online investment firm offering a full line of investment products and tools designed to help investors take control of their financial future.
Worden TC2000 Leader in Real-time Stock Charts Market Scans Technical Analysis and Alerts
SureTrader Online USA Stock Options Trading Broker Level 1 & 2 Direct Access Quote Data
For Non USA Persons Only - Mobile Trading Platform
Forex Buy Sell Signals Sent To Your Mobile
Receive Forex Alerts anywhere, anytime. Available in 200 Countries and 700 Mobile Networks. Forex Trading opportunities are analyzed 24 hours a day. Messages tell you when to buy and when to sell. Follow on your mobile phone or use our Forex signal software.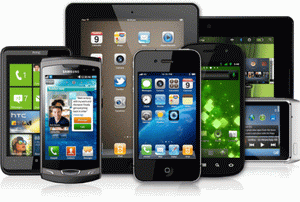 The Best China Wholesale Ideal for Retail Consumers
Tablets - Mobile Phones - Car Electronics - Computer Laptops
Free Shipping Worldwide