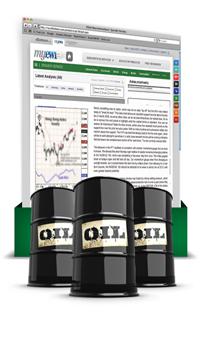 July 23, 2012 - Crude Oil: A 4% Intraday Selloff To Remember - By Elliott Wave International
There has been a boatload of fundamental reasons to explain why crude oil prices took a 4.1% intraday plunge on Monday, July 23. Off the top of the pile were these bearish whammies:
On July 20, the European Central Bank said it would reject Greek bonds as collateral "for the time being."
On July 22, Greek Prime Minister Antonis Samaras told former US president Bill Clinton that his country is stumbling through "our version of the Great Depression."
On July 23, the global commodities benchmark Thomson Reuters CRB Index fell hard
In the words of a July 23 news source: "The drop in oil prices is a continuation of the risk-off mood that began Friday."
One problem: the "risk-off mood" in crude oil did NOT begin on Friday. It started on Thursday, July 19 -- before any one of these presumed external catalysts had occurred.
EWI's trader-focused Energy Specialty Service's intraday update at 8:53 AM on July 19 set the stage for a near-term turn down in crude via the following chart and wrote:
"Crude should be at or very near the end of an advance... Trade below ___ would open the possibility that the [rally] is complete and I'll be looking for impulsive downside price action to support the idea that the decline is underway."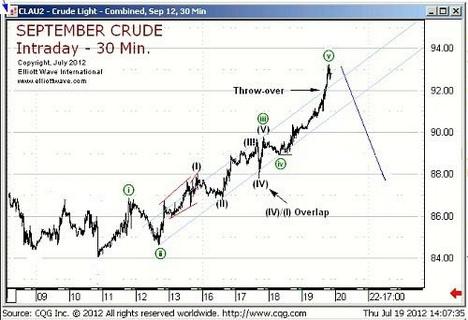 The next chart moves forward in time to show how crude oil followed its July 19 Elliott wave script to a "T."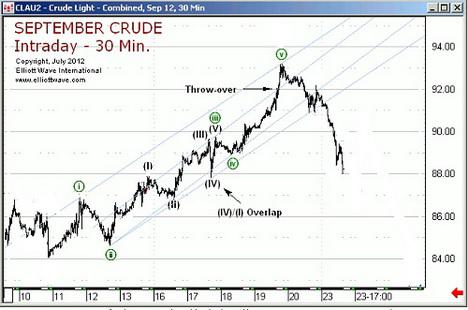 The latest Energy Specialty Service takes over today to reveal what tomorrow could have in store for crude oil.
Get the full story. Click here to review EWI's premier trader-focused Energy Specialty Service now.

"Commodity Code" Gold Silver Oil AutoTrade Metatrader Expert Advisor
The commodity code is a 3 level system. Level 1: The Commodity Code Trading Station Gathers Gold, Oil and Silver quotes directly from the banks. It identifies the common patterns when the big banks are moving the price significantly. Level 2: Commodity Code analyizes the pattern and the signals and decides if there is a profitable low-risk high-reward trading opportunity to apply it. Level 3: The approved signal reaches your Metatrader terminal instantly, opening the profitable trade for you on autopilot.