When the U.S. Food and Drug Administration recalled two models of the Stryker liquid waste management systems last year after two patient deaths and other patient injuries due to providers applying high-flow, high-suction vacuums to passive chest drains using the system, hospitals were faced with the daunting task of looking for alternatives to deal with the unpleasant issue of liquid medical waste.
Enter Skyline Medical's Streamway Liquid Waste Management System:
Benefits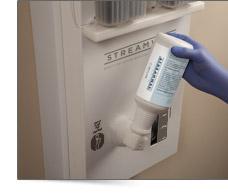 The STREAMWAY System:
Virtually eliminates handling of surgical fluids by providing automated collection, measurement and disposal
Increases safety for staff and patients by reducing exposure risk
Cuts overhead expenses by eliminating costly canisters, handling and disposal
Boosts operative efficiency by delivering uninterrupted performance
Improves staff utilization by decreasing time for set-up and cleanup, and freeing valuable floor space near surgical areas.
How It Works
Operative fluid is suctioned directly from the surgical field into the STREAMWAY System, which automatically measures and records volume before it disposes of the fluid directly into a facility's existing plumbing system. Cleaning the STREAMWAY System is easy-simply detach the procedure filter, connect our proprietary cleaning solution, and activate the clean cycle on the touch screen.
Skyline has a new name, (formerly BioDrain Medical) and a new CEO, Josh Kornberg whose looks to be taking the Company to the next level. An advisory board was also formed last year which is comprised of top doctors and a healthcare executive with ties to one of the largest purchasing groups in the country HCA. The business model is to not only to sell the Streamway System but to also sell a one time cleaning solution and filter that hospitals will use with each surgery ( i.e. "razor blade model".) The Company estimates that there are approximately 50,000 operating rooms in the US with a total number of procedures performed of around 70m. If Skyline can penetrate just 5-10% of this market, their high gross margin (80%) recurring revenue model will generate substantial earnings.
It appears that the Company's efforts are starting to be realized :
Revenues were $107,835 and $386,418 for Q3 and first nine months of 2013, up more than 108% and 289% compared to Q3 and first nine months of 2012;
More than 50 purchase orders were received in Q3 2013 for Skyline's improved STREAMWAY System, scheduled for delivery in Q4 and beyond;
Company strengthened balance sheet through conversion of all convertible notes;
Company entered Virginia market with multi-unit purchase from Ambulatory Surgical Center;
Skyline expanded its presence in Florida with multiple unit sale to a major hospital;
Increased sales force to support national and international rollout of STREAMWAY System;
National ambulatory surgical center chain client doubles initial Q2 2013 order fully replacing Skyline competitor; and
"Now that the technological modifications of our STREAMWAY System are complete, we will prepare for mass production and be able to fulfill a large backlog of purchase orders currently in our pipeline. These orders represent approximately $2 million in revenue of which approximately $1 million will be recurring on an annualized basis. We will begin to recognize these revenues immediately as they will impact our financial results starting over the next two quarters." Kornberg, 11/14/2013
Skyline Medical Expands Early Access to Its Revolutionary Fluid Waste Management System Through Attainia partnership:
"Skyline's STREAMWAY® System will be included in the world's most widely used healthcare equipment planning and budgeting software Our partnership with Attainia will increase awareness among healthcare organizations worldwide that they have an alternative to the antiquated, high-risk fluid disposal methods they've been using for years," said Josh Kornberg, CEO of Skyline Medical, formerly BioDrain Medical. "The patented STREAMWAY System is the first truly closed system designed specifically for medical applications, where safety simply cannot be compromised. Our system is a one-piece, wall-mounted unit that connects directly to a facility's plumbing system to minimize human intervention, provide unlimited capacity, and eliminate the cost and environmental waste of canisters," Kornberg explained. "By working closely with clinical teams and architect partners in the early stages, we can ensure a seamless and successful installation." Skyline Medical chose Attainia because it's the industry leader in healthcare equipment planning. "Currently, more than 2,000 active healthcare projects are being planned using Attainia software systems, totaling more than $30 billion," Kornberg said. "As a leading provider for healthcare planning, Attainia was a logical choice for our new alternative solution to fluid waste management."
Skyline recently raised over $2m in a private placement in which the CEO put his money where his mouth is. The Company will use the proceeds from the sale of the Securities to expand its sales and installation efforts and for general working capital purposes. Skyline Medical will also use this capital to help fulfill the purchase orders of STREAMWAY Systems ready for placement in hospitals and surgical centers, as well as anticipated installations to occur in the first half of 2014 as a result of expected trials. "This private placement provides us with the growth capital necessary to expand our sales force and meet the demand we are seeing from healthcare facilities and hospital groups for our STREAMWAY System," stated, Josh Kornberg, CEO of Skyline Medical.
Technically the chart is in the lower risk basing zone and appears to be setting up a nice bottoming pattern in preparation for what I believe will be a big move in 2014. First major resistance is at 30c, a break of that with volume will bring a move towards the September highs of 47c. I fully expect a break of that level once this Company gets discovered with a move towards $1.00 as more major hospitals switch to the Streamway System.
2014 should be a transformative year for Skyline. The Company appears poised to execute on their recurring revenue business model and ramp up the sales of the Streamway System to a mass scale level. This is already represented by the current $2m in backlog of orders that should substantially increase with the recent Attainia partnership in place. In addition, many hospitals and surgery centers will need to replace the Stryker Neptune System to due the Class I recall. The Streamway System is at the right place at the right time.
Patient investors should benefit significantly from purchases of the stock at around this level as Skyline has recently raised $2m to fuel future growth and the Company should see extremely high profits margins on dramatically ramping revenues during 2014.
Disclosure: I am long SKLN. I wrote this article myself, this is NOT investment advice, it expresses my own opinions. I am not receiving compensation for it. I have no business relationship with Skyline Medical SEE FULL DISCLOSURE BELOW
Disclosure: I am long SKLN.