More downside is likely for iShares MSCI Emerging Markets Index Fund ETF (EEM).
EEM formed a Head and Shoulders top reversal pattern on its daily chart and broke through the neckline last week. This same formation is not apparent on the weekly chart.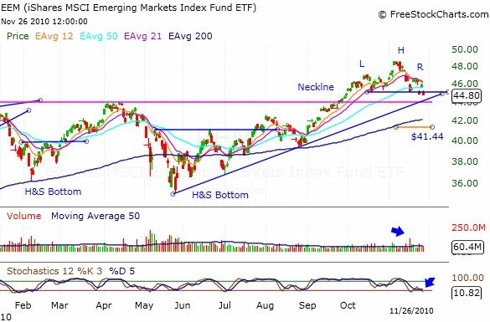 Regardless, follow-through to the downside minimum objective of the pattern would bring EEM to $41.44 [top of head (48.60) less Neckline (45.02) = 3.58, 45.02 – 3. 58 = 41.44]. It closed Friday at $44.80.
EEM has a history of following-through on its Head and Shoulders patterns, as can be seen highlighted on its weekly chart.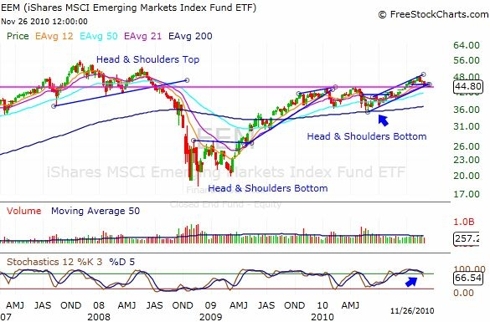 Follow-through of the pattern would indicate that EEM will break below the bottom trend line of its upward channel (est. at $44.20), which is now aligned with the 21ema on the weekly chart, at $44.07. That's also very close to horizontal support, previously resistance, of $44.02.
So, we have three indications that the area of $44.02 to around $44.20 will be an important support zone. If price breaks through, it is significant; therefore, increasing the odds that EEM will reach the Head and Shoulders objective of $41.44, at a minimum.
Even though the target might not be hit, this analysis indicates further downside for EEM. A second objective would be around $42.12, current price of the 200ema on the daily chart, or $41.71, the 50ema on the weekly chart. Remember the moving average price is going to change as we move forward in time.
You can also see the bearish momentum signal given by Stochastics on the weekly chart. On the daily chart Stochastics is back into oversold territory.
Also, note the significant increase in volume on the second day creating the Neckline. That was the highest volume day since May 2010, a bearish sign. (www.etf-portfolios.com)
Disclosure:
no current position