Since mid-2008 the United States Natural Gas Fund ETF (NYSEARCA:UNG) has been trending down. There are now the beginning signs that it may have reached a bottom.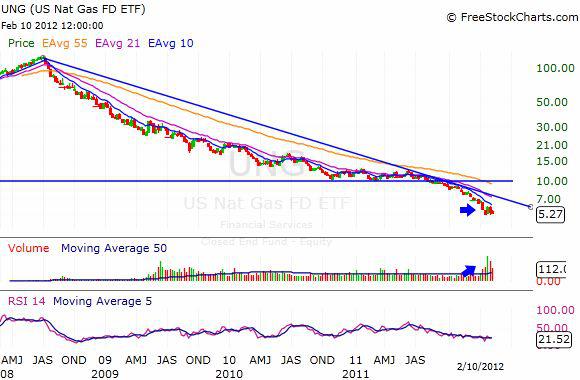 Recently UNG found support at the $5.00 price area having hit a low of $4.98 on January 19, 2012. A second decline found support a little higher at $5.02. Together, we now have the makings of a double bottom reversal pattern.
Supporting evidence includes:
- Bearish trend has accelerated lower at three angles of descent, before hitting the recent bottom, thereby creating a fan
- Significantly higher volume recently which can best be seen on the weekly chart
- Volume spikes further into a trend can signal exhaustion
- Bullish divergence with RSI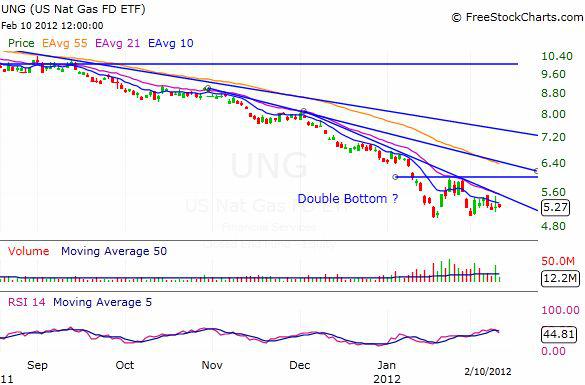 Resistance of the current short-term trend is defined by the trend line and 21 exponential moving average (ema) (now at $5.56) as seen on the daily chart. The next higher trend line and 55ema mark resistance of the medium-term trend.
A breakout of the double bottom price pattern occurs above $5.98, which gives a minimum target of $6.98. At that point UNG would be above the 55ema and at or close to resistance of the long-term trend line starting from the 2008 high of $127.78.
Disclosure: I have no positions in any stocks mentioned, and no plans to initiate any positions within the next 72 hours.