Starting in January 2009 the Vanguard Total Bond Market ETF (NYSEARCA:BND) formed an almost nine month base before moving out of it in late September 2009. It has since formed a Bullish Symmetrical Triangle consolidation pattern over the past several months at the high end of the basing pattern.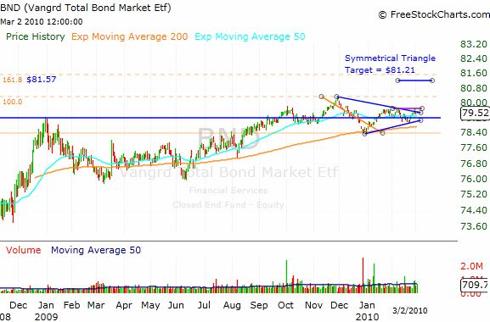 The Vanguard Total Bond Market ETF "Invests in more than 3,000 bonds representative of the broad, U.S. investment-grade market."
During the formation the bottom of the Triangle found support at the 200 period exponential moving average (NYSEMKT:EMA). This is bullish behavior. 
Three days ago BND broke out of its Symmetrical Triangle as it moved through resistance at $79.52 and has since retraced slightly. The past three out of four days the $79.52-$79.54 level was hit.

Anytime resistance/support is found at the same price area in multiple periods it's the market's way of telling us to watch that level. A clear move above $79.54 would signal a possible continuation of the breakout.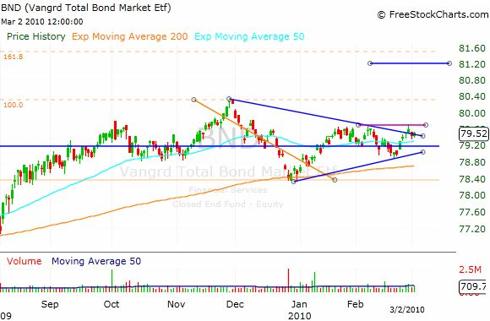 Be careful though as BND is now also forming a Bullish Ascending Triangle. The purple line on the charts shows the top of this pattern. Ideally when price moves out of a triangle pattern it does so with momentum, not always, but that is the best scenario. 
The Ascending Triangle has just started and therefore price may stay within the formation for a while longer before breaking out. A breakout would occur if price moves through resistance of the top purple line, or $79.72.
Price moving through that level with momentum would be a stronger signal for entry as the risk of price staying within the new triangle would complete and price free to continue higher. 
The measuring objective to determine a minimum target on a Symmetrical Triangle formation is determined by taking the price difference between the top horizontal line and the bottom uptrend line, where they both meet. For BND that would be on December 31, 2009.
The top line on that date is at $80 and the low of the day at $78.33, a difference of $1.67. If we add the $1.67 difference onto the breakout price of $79.54 we get a minimum potential price target of $81.21 for BND. 
For the Ascending Triangle the measuring objective is determined in a similar way. We take resistance of the top horizontal line of $79.72 less the bottom on February 5, 2010, estimated at $78.72, giving us a difference of $1.00. A breakout occurs when price moves through resistance of $79.72. We add $1.00 to get a minimum target of $80.72. 
Since the larger pattern, and therefore more significant, is the Symmetrical Triangle, it should be given more weight.  Given that an Ascending Triangle may continue to form an entry at this point would be safer when price breaks through $79.72. 
A Fibonacci 1.618 extension measurement of the most recent downtrend is also included indicating a possible target of $81.57. (www.etftrends.net)
Disclosure:
no current positions