(click to enlarge)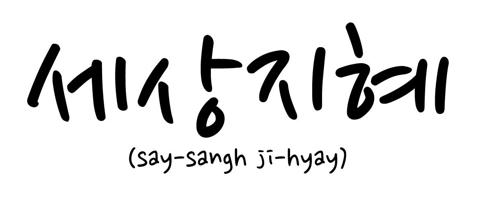 Translation: Worldly Wisdom (Korean)
"The best thing a human can do is to help another human being know more." - Charlie Munger
My goal is to help my fellow human beings build upon their wisdom, live a more enjoyable life and potentially improve their investing. Normally, to seek worldly wisdom it is necessary to spend time seeking it out. Your time is precious. Thus, I will do all the hard work searching, gathering and synthesizing of data from multiple disciplines into a clear, concise fashion for you to build wisdom.
Additionally, it can get quite lonely being a wisdom seeker in this day and age. I want to provide an area where like minded wisdom seekers can congregate to share and to help others.
You might ask why worldly wisdom is necessary? How would it help stock picking? Well, let's first ask Charlie Munger. He once said of Warren Buffett, "This is really crucial: Warren is one of the best learning machines on earth. The turtles who outrun the hares are learning machines. If you stop learning in this world, the world rushes right past you." Both Charlie and Warren are arguably in the camp of best investors of all time, and you can be sure that they aren't just reading about investing. They've read and understand the psychology of human nature and it's limitations. They've also read history, science and many other disciplines to build their mental models. They've heeded Sir Isaac Newton's advice and have stood on the shoulders of giants. History rhymes and so do the wise men.
Personally, my quality of life has improved since I have started the journey to continually seek wisdom. My stock picking and investing has improved dramatically from where it started, although I will admit that some areas are still lacking. This does not stop me, however, and I continually search for ways to get better in all aspects of my life. That is the main point; remember that we are human and find our limitations. From here and here only will we be able to learn and develop until that limitation is no more.
Are interested in being the turtle who outruns the hare? Then make sure to keep checking this instablog where I will be adding snippets of my quest of wisdom. I will also be adding more insights on my own blog called Elementary Worldly Wisdom and will be writing a thorough analysis on specific worldly topics, along-side an in-depth analysis of a business, in my monthly newsletter.