In recent weeks, talks of the Fed "tapering" its $85 billion/month QE program have created jitters throughout the global financial markets, especially in emerging market stocks, bonds and currencies, but also in U.S. Treasury and high-yield "junk" bonds.
Despite these jitters, U.S. stocks have held up quite well, and are still in their uptrend that started back in November 2012.
In our chart analysis of the SP500, you can see that the index has held above its rising support trendline that started after the U.S. Presidential elections. The fact that stocks are above this support line is a sign that the uptrend is still intact, for now.
Overbought/oversold oscillators like William's %R have indicated good buying opportunities during the uptrend in recent years. Sure enough, William's %R is oversold again.
click to enlarge)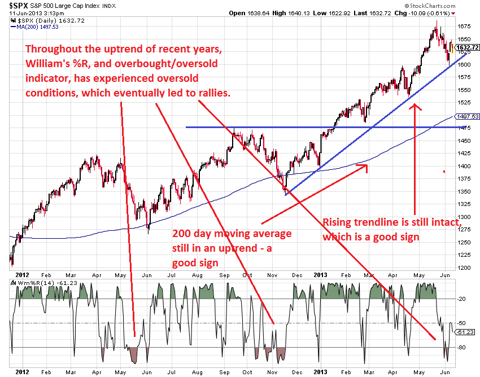 Chart Source: StockCharts.com
The tech-heavy Nasdaq composite shows many similarities to the SP500's chart, but you can see an additional support line that started back in April 2012, which is a positive considering the fact that the Nasdaq is still above this level. Also, there's a possible bull flag forming in the Nasdaq composite in recent weeks, which is another positive, assuming it holds true.
click to enlarge)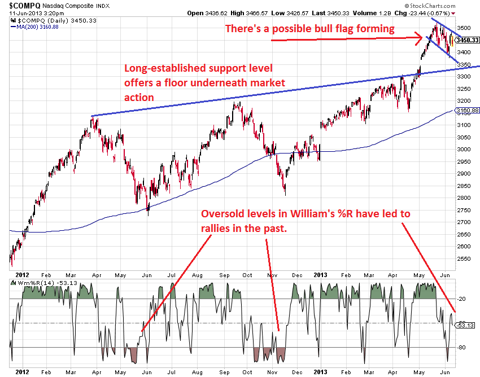 Chart Source: StockCharts.com
So, what does all of this mean? We don't have a crystal ball that tells us where the economy or markets are headed, nor does anyone, but we do listen to what the markets are telling us, in the form of price action and patterns.
For now, the market is telling us that it is taking a breather (as is common this time of year), but it isn't showing signs of major technical breakdown, thankfully. Of course, we need to see if those important technical support levels hold in order for the uptrend to stay intact. It's possible that current market price action is indicating that Fed QE taper fears are overblown, and that they'll happen further in the future than the market has initially expected, and/or that the taper itself will be less drastic than the market had expected.
As usual with our our blog posts, we are not making any firm market predictions, because we are traders, first and foremost, and we trade with the prevailing market trend, instead of fighting it.
Also, nothing within this post should be taken as investment advice or a recommendation to buy or sell any investment, as it is for educational purposes only.
Follow us on Twitter and Facebook to keep up with our latest blog posts and market analyses!
Disclosure: I have no positions in any stocks mentioned, and no plans to initiate any positions within the next 72 hours.