The race for the best smartphone may answer one of the most perplexing issues facing investors in today's market. That is: what is the appropriate value of Apple (NASDAQ:AAPL)? Is Apple still a growth story or will Apple just continue to produce iPhone's of only one small size, a few Macs, iPods, and iPads and pay a good dividend? If the latter is the case expect the stock to trade at 3.5 percent yield or 4 percent yield one way or another. Either the stock price will fall or the company will increase the dividend. That is why the stock is on a yo-yo now, down 40 points and then up 40.
A more important question is why has growth stalled? Clearly the Mac to PC switchers were providing growth for Macs in a declining market for PCs. Curiously Apple discontinued the very successful "I'm a Mac" ads. As a result Mac sales showed a decline for the first time in years. Apple knows better than most that good advertising works. Yet Apple has stopped promoting the heart and soul of their business-the Macintosh computer. Apple laptops have been consistently the best out there but Apple needs new customers to grow the market. Today the laptops last 4 or 5 years easily. Users have little reason to rush their upgrades. The iPod (digital music player) market is still 75% Apple's but with every phone now a digital media player and every tablet one also the market for stand alone iPods while substantial is hardly growing. On the other hand the iPad growth story seems to be just beginning. But Samsung's (OTC:SSNLF) success in the mobile phone market could spill over into the tablet market and stifle Apple's future growth. Has this spooked Wall Street's gantseh machers?
In the smart phone market the turtle, Samsung, has caught the hare, Apple. Samsung is even threatening to take the lead in the all important mobile phone and tablet market. The way the two companies approach the phone and tablet markets could not be more different. Apple has fixated on the idea that users want a phone that is large enough to read on but difficult to really use for writing more than short texts and emails. Apple believes that the thumb plays a central role in using phones with one hand. They adamantly refuse to make a phone wider than the width of a small person's thumb. Therefore Apple has resisted duplicating Samsung's success with the larger S line of phones and the All in One or Phablet market. Apple has yielded this market to Samsung and that is a large reason why growth has stalled. Samsung on the other hand has flooded the market with both feature phones, smart phones, and the All in One tablet-phone hybrid called the Galaxy Note and sells tablets as well. For instance Samsung sells 20 flip phones and 38 Qwerty Keyboard phones. Samsung's approach is to create a variety of products and see which one sells. When a market segment is identified then Samsung focuses on that part of the market and improves the quality of its product over time. Samsung does not shrink from testing the market at all price points. Apple demands a premium for its phone and appears to be aiming for only those who can afford the phone. This has left Apple promoting only one sized phone since 2007 with a minor change in size last October. Samsung offers phones in many configurations and sizes. The numbers explain where Apple's growth has gone. Starting with the hybrid Galaxy Note Apple has lost 1.1 million customers for both a phone and a tablet each and every month since the product was introduced. The Note 2 is currently doubling the sales of the original Note. For each Note sold Apple misses the opportunity to sell a tablet, phone and to involve a customer in the Apple ecosystem. The Galaxy S class, which is basically a larger phone than the iPhone, has recently passed the 100 million mark in sales. Since it was introduced in 2010 the S class has become Samsung's flagship product. Sales are expected to be at least 40 million for this year.
If Apple were to offer a larger phone and a Phablet and take 50 percent of that market it would sell an additional 25 million units per year. At an average selling price of $700 that would add 17.5 billion to Apple's top line. Associated accessories and apps would add to the top line also. So instead of missing estimates every quarter by a small amount Apple would have beaten estimates and the growth story would be intact. With gross margins at 40% the refusal to offer a larger phone has cost Apple 8 billion a year in earnings which would translate to 8 dollars per share. Apple would have year over year estimates of over $50 per share instead of the declining growth rate that it now has of $44 per share.
Instead of focusing on the ultra competitive tablet, phone and Phablet market, Apple is rumored to be developing an iWatch. Consider that if the iWatch immediately took 10 percent of the $54 billion wrist watch market this would add only 5.4 billion to Apple's top line. The iWatch does seem like an interesting idea. But the refusal to simply make a larger phone that would make more money with less work is a choice the stubborn executives at Apple have made. Apparently they are obsessed with the idea that the thumb plays a large role in the use of a mobile phone and refuse to even entertain the idea of a S class phone. This reflects poorly on Apple management. They are letting their opinions get in the way of the shareholders best interest. The hare is jumping to another product (iWatch?) before the race for the smartphone crown is done. In fact the Phablet market may be the area where Apple could do the most good. How can Apple management overlook the usefulness of a car salesman for example with a clipboard sized Phablet negotiating with a customer, showing the different options and prices live and in real time while simultaneously discussing price points with his or her boss? For the enterprise one device to interact with both management and customer seems to be the wave of the future. Bet on the turtle to get there first. Apple's charts below show the down trend is still intact. Worth noting is that the Point and Figure chart shows that Apple may have found footing in the low 400's. Currently Apple is a Point and Figure buy but only a few points from another sell signal. Clearly the stock is at a critical level and investors should be cautious.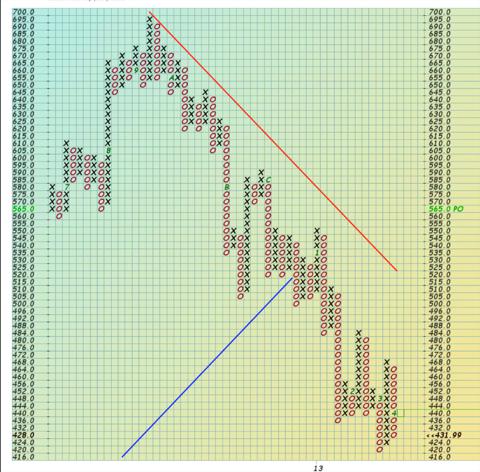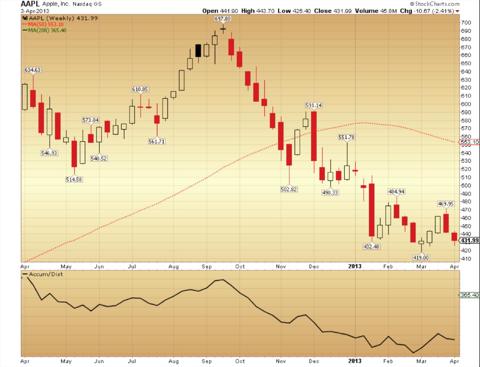 Disclosure: I am long AAPL. I wrote this article myself, and it expresses my own opinions. I am not receiving compensation for it (other than from Seeking Alpha). I have no business relationship with any company whose stock is mentioned in this article.