Hedging Four StockTwits 50 Stocks
At the end of each week, the financial social network StockTwits publishes a list of stocks it considers to have the strongest fundamental and technical characteristics, the StockTwits 50. In putting together this list, StockTwits takes into account four criteria:
Earnings growth
Positive surprises
Momentum
Setups
Of those four criteria, the first two are fairly self-explanatory, but the second two could use a little elaboration. By "momentum", StockTwits is referring to relative strength, and by "setups" it's referring to a checklist of factors that can include price volume dynamics and industry momentum.
Given the technical component of the StockTwits 50, I suspect that one of the stocks that appeared on the list over the weekend, Zillow, Inc. (Z), wouldn't appear if the screen were run again after Wednesday's close. As the chart below shows, Zillow's share price slid nearly 10% from Friday's close to Wednesday's close.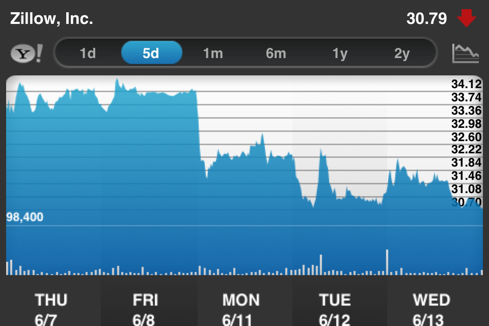 For investors long Zillow and considering hedging, The table below shows the costs, as of Wednesday's close, of hedging it and three other StockTwits 50 stocks against greater-than-20% declines over the next several months, using optimal puts.
A Comparison
For comparison purposes, I've added the SPDR Dow Jones Industrial Average ETF (DIA) to the table. First, a reminder about what optimal puts are, and a note about the 20% decline threshold. Then, a screen capture showing the optimal put to hedge the comparison ETF, DIA.
About Optimal Puts
Optimal puts are the ones that will give you the level of protection you want at the lowest possible cost. Portfolio Armor uses an algorithm developed by a finance Ph.D. to sort through and analyze all of the available puts for your position, scanning for the optimal ones.
Decline Thresholds
In this context, "threshold" refers to the maximum decline you are willing to risk in the value of your position in a security. You can enter any percentage you like for a decline threshold when scanning for optimal puts (the higher the percentage though, the greater the chance you will find optimal puts for your position). I have used 20% thresholds for each of the names here because it's a large enough decline threshold that it lowers hedging costs, but not so large that it precludes a reasonable recovery. A couple of examples may help illustrate this:
After a 30% decline, it would take almost a 43% gain for an investor to get back to even.
After a 20% decline it would only take a 25% gain to get back to even.
The Optimal Put to hedge DIA
Below is a screen capture showing the optimal put option contract to hedge 100 shares of the SPDR DJIA ETF against a greater-than-20% decline between now and December 21st. A note about this optimal put and its cost: To be conservative, the app calculated the cost based on the ask price of the optimal put. In practice an investor can often purchase puts for a lower price, i.e., some price between the bid and the ask (the same is true of the other names in the table below).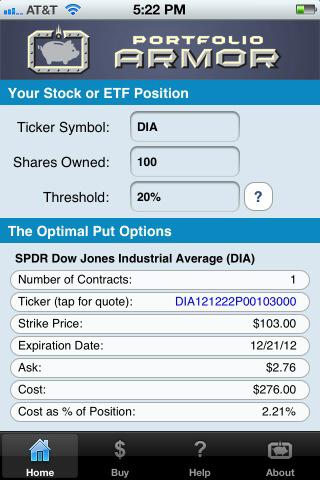 Hedging Costs As Of Wednesday's Close
The hedging costs below are presented as percentages of position value. Ulta Salon, Cosmetics & Fragrance, Inc. (ULTA) had the highest StockTwits (ST) score -- 8.8, on a 10-point scale. The other three stocks had ST scores of 8.7. Given the high cost of hedging a couple of these names, if you own them as part of a diversified portfolio, and are content to let that diversification ameliorate your stock-specific risk - but are still concerned about market risk - you might consider buying optimal puts on an index-tracking ETF (such as DIA) instead, as a way to hedge your market risk.
| | | |
| --- | --- | --- |
| Symbol | Name | Hedging Cost |
| ULTA | Ulta Salon | 12.0%** |
| Z | Zillow, Inc. | 15.6%* |
| CMG | Chipotle Mexican Grill | 5.00%** |
| ISRG | Intuitive Surgical | 5.29%*** |
| DIA | SPDR DJIA | 2.21%** |
*Based on optimal puts expiring in November
**Based on optimal puts expiring in December
***Based on optimal puts expiring in January
Disclosure: I have no positions in any stocks mentioned, and no plans to initiate any positions within the next 72 hours.