Recent confusion on the part of investors has induced volatility and oversensitivity. The reminders of an eventual taper of the Federal Reserve's easy money policies rattled investors already nervous about the sharp recovery stock prices have experienced. Add to this unease over China and indications that the European economy has stalled and the recent acrophobia (fear of heights) seems rational.
Why hang around?
The S&P 500 has recovered all the ground lost from 2007 to 2009 boosted by bond purchases led by the Federal Reserve and healthy earnings reports from corporations (see chart). Along the way, there have been market setbacks, but investors who stayed invested have been rewarded, and rewarded handsomely.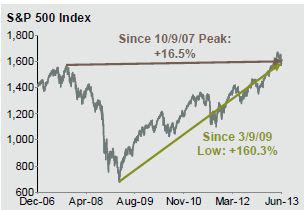 At this point in time, a hand-off from a market supported by easy money (monetary policy) to one based on solid fundamentals is taking place.
With a five-year run in stocks behind them, many investors feel confused about what do now and are asking why they should hang around. There are at least three compelling reasons why now is not the time to head for the exit doors.
1. 1. Corporate earnings look great. Profit margins for businesses have rarely looked better as companies have wrung out costs and sped up productivity. At the same time, debt levels have fallen and cash reserves have built, creating ammunition for further growth.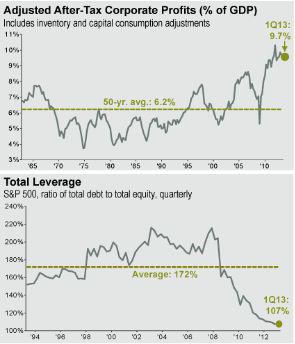 2. The US economy is improving. Although the unemployment rate remains stubbornly high, the average American has whittled down his debt load. With home prices up in more than 80% of zip codes around the country and investment portfolios expanding, confidence has grown, putting consumers in a far better position to spend than they were even just a few years ago.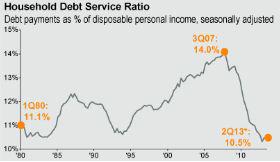 3. Valuations appear reasonable. Assessing valuation is complex due to the variety of valuation metrics used. Looking to six common yardsticks (P/E, P/B, P/CF, P/S, PEG and dividend yield), the S&P 500 is still valued below the long-term (15-year) average, suggesting that despite the strong run in prices, valuation remains intact.

Summary
Over the near term, heightened confusion has induced volatility and oversensitivity in investors. Through this, however, it is clear that there is a hand-off taking place from a market supported by easy money (monetary policy) to one based on solid fundamentals. Corporate earnings as well as consumer households are on solid ground and improving. Also, despite the run-up in stocks, valuations are still below long-term averages. The key take-away is that long-term investors still have plenty of good reasons to be optimistic as the growth story of stocks continues to unfold.