Biota Pharmaceuticals, Inc. (BOTA), a biopharmaceutical company, focuses on the discovery and development of anti-infective products in Australia. Its stock price has dropped from $3.21 on July 31st, 2014 to around $2.29 on Aug. 1st, 2014, a more than 25% dip on a single trading session. Historically speaking, over the last 5 years, BOTA has been on a downward slide trend for a while. With a reverse stock split of 1-for-6 in Nov. 9th, 2012, BOTA's stock price has consistently stayed below $5 per share, except a temporarily rise with the general market uptrend in the beginning of 2014.
Right now, it stands at around $2.30 per shares.
From its financial statement point of view, BOTA recently raised $26.8 million by issuing 6.7 million shares at $4.30 per share, according to this Form 10-Q, in January 2014. The total number of outstanding shares, as of September 20, 2013, was 28,423,987 and therefore, the new 6.7 million shares represented around 20% of total number of outstanding shares post-January 2014. Combined with virtually no long-term debt liabilities and stable current liabilities, BOTA's financial condition is in good shape. In terms of cash outflows, BOTA has carefully built up its cash position without large cash payouts. For last two years, excluding the cash raised from stock issuing and acquired from mergers and acquisitions, BOTA has historically used up cash on the quarterly basis from $2 million to $14 million. It varies within this range and this would determine how long the runway would probably be in the near term, given the current cash position BOTA holds.
The primary catalyst contributing to today's sell-off is result of its influenza treatment failed to meet the main goal in a mid-stage study, according to this Yahoo Finance Article. Also, back in April, 2014, BOTA received a notification from the U.S. Department of Health and Human Services (NYSE:HHS) office of the Assistant Secretary for Preparedness and Response (OTC:ASPR) and Biomedical Advanced Research and Development Authority (BARDA) that pending a decision regarding the outcome of a recently completed In Process Review (IPR) of the BOTA's contract for the development of laninamivir octanoate, ASPR/BARDA has issued a Stop-Work Order notifying BOTA to discontinue work on a number of activities under its contract, according tothis Form 8-K.
Bottom Line: BOTA had seen price correction at least twice for the last six months. Investors should pay attention on how BOTA would turn around in moving its drug product portfolio forward.
(click to enlarge)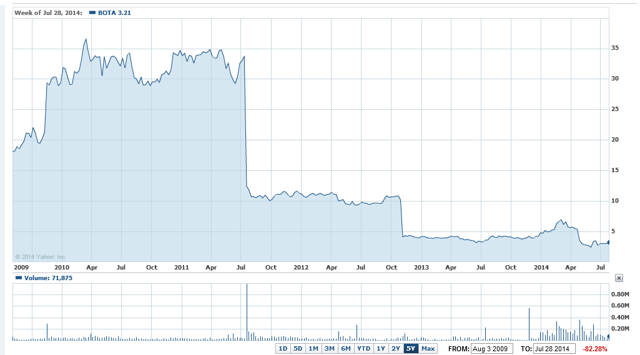 Click to enlarge
Disclosure: The author has no positions in any stocks mentioned, and no plans to initiate any positions within the next 72 hours.