The iShares Russell 2000 ETF (NYSEARCA:IWM) pushed slightly higher and remained in a relatively tight range throughout the session.
The IWM price action came within 21.5-cents of our 109.81 stop.
Correspondingly, the price action came within 3.8-cents of the 20.39 stop on the Direxion Russell 2000 3X Bearish ETF (NYSEARCA:TZA).
The market has pushed the extreme. This may be as far as it can go without a break-out to the upside or a break lower.
With the light volume, narrow range day and contact of the down-channel trend-line (that held) as shown, the probability is still weighted to the down-side.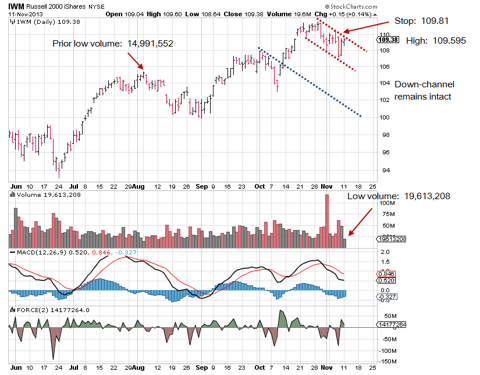 Charts by StockCharts.com
We are long TZA with a stop at 20.39.
Disclaimer:
This report is for discussion purposes and contains our opinions only. This posting is to publicly document our thinking and market analysis actions within the Three Ten Trading entity. The data was obtained from sources believed to be reliable. However, we make no guarantee as to the accuracy of that data.
Investing or trading in equities, futures or options may result in a significant loss of capital, total loss of capital or a loss greater than available capital.
We are not advocating any stock or in any way offering portfolio management advice or stock selection service.
Respectfully,
Paul Mosgovoy, President: Three Ten Trading, LLC
Thank you for reading.
Disclosure: I am long TZA.