At the last session we saw that the iShares U.S. Real Estate ETF (NYSEARCA:IYR) was at an intersection of two trend-lines.
This is typically a low risk area and the decision was made to go short the index or rather go long the DirexionShares Daily Real Estate Bear 3X Shares ETF (NYSEARCA:DRV).
With the current session just ended, the IYR attempted but did not make a new high and the close was slightly higher for the day.
The confluence of trend-lines remains intact (up-trend line omitted for clarity) as there was no significant push out of the confines of the set-up.
Although there was no gap lower during this session as was the desired scenario, we see that there was no evidence that the trade set-up is experiencing a failure.
By compressing the daily chart a bit we can see that these past two sessions may represent a pivot point that will lead to a more aggressive trading channel.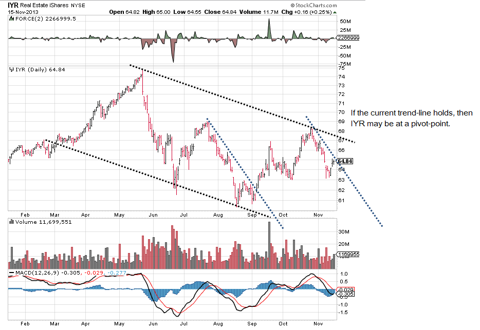 Charts by StockCharts.com
Taking a look at the overall market, the SPDR S&P 500 Trust ETF (NYSEARCA:SPY) has closed at an all time high.
From the daily chart below, it can be seen that any move lower from here will complete a near perfect textbook bearish divergence.
It should also be noted that the SPY has completed a measured move target established by the trading range between 175 and 177.5
The trade channel targets approximately three points as the move. That equates to 180 on the SPY. The SPY closed the day at 180.05.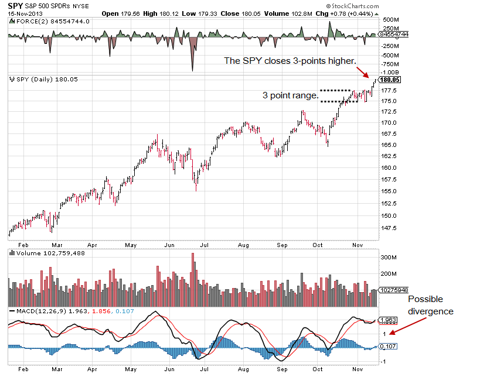 Charts by StockCharts.com
We are long DRV with a stop in the area of 58.25.
Disclaimer:
This report is for discussion purposes and contains our opinions only. This posting is to publicly document our thinking and market analysis actions within the Three Ten Trading entity. The data was obtained from sources believed to be reliable. However, we make no guarantee as to the accuracy of that data.
Investing or trading in equities, futures or options may result in a significant loss of capital, total loss of capital or a loss greater than available capital.
We are not advocating any stock or in any way offering portfolio management advice or stock selection service.
Respectfully,
Paul Mosgovoy, President: Three Ten Trading, LLC
Thank you for reading.
Disclosure: I am long DRV.