As we stated in this report, Molycorp Inc. (MCP) appears to be in the process of correcting.
Today's session was another corrective move with a slightly lower close. Price action is still within a 38% retracement level and the day's session volume continued to contract.
(click to enlarge)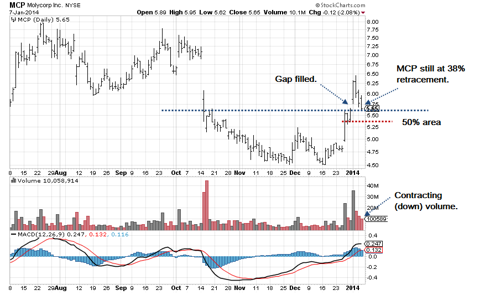 Click to enlarge
Charts by StockCharts.com
So far, the probabilities are still weighted to the up-side. We have large volume up moves followed by lower volume corrective moves. Price action is now touching a known support level and presenting a 38% retracement simultaneously.
As sated in yesterday's report, if MCP begins to erode into the 50% retracement area or if volume to the down-side begins to increase, then the bullish case may be invalid.
We are maintaining our position in MCP with a stop located in the 5.46 area.
Disclaimer:
This report is for discussion purposes and contains our opinions only. This posting is to publicly document our thinking and market analysis actions within the Three Ten Trading entity. The data was obtained from sources believed to be reliable. However, we make no guarantee as to the accuracy of that data.
Investing or trading in equities, futures or options may result in a significant loss of capital, total loss of capital or a loss greater than available capital.
We are not advocating any stock or in any way offering portfolio management advice or stock selection service.
Respectfully,
Paul Mosgovoy, President: Three Ten Trading, LLC
Thank you for reading.
Disclosure: I am long MCP, .