At fist glance it looks bad for Molycorp Inc. (MCP). Price action attempted to push higher during the session only to see it evaporate and close on the low with increased volume.
The look of the chart has what some of the early masters called "threatening". There is the threat of more supply at the next open. There is the threat of the entire correction turning into a drawn out reversal taking all those that are "in-hopes" with it.
(click to enlarge)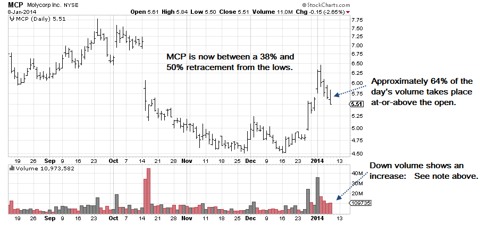 Click to enlarge
Charts by StockCharts.com
Let's look at the facts.
MCP has retraced just a little more than 38% and a little less than 50%, so it is in a grey area.
As stated on the chart. The daily bar does not tell the whole story. It looks as if MCP made a jab into the prior session's range and then spent the rest of the day hovering around the lows and closing on the low.
In fact, the majority of MCP's volume (approx. 64%) was traded at-or-above the day's open and only later in the session did price action break down and close on the low.
We will have to see if the bulls blink tomorrow and respond to the threat with lower prices.
We may get stopped out. But we are fully prepared to re-enter the position if price action dictates.
Disclaimer:
This report is for discussion purposes and contains our opinions only.
This posting is to publicly document our thinking and market analysis actions within the Three Ten Trading entity. The data was obtained from sources believed to be reliable. However, we make no guarantee as to the accuracy of that data.
Investing or trading in equities, futures or options may result in a significant loss of capital, total loss of capital or a loss greater than available capital.
We are not advocating any stock or in any way offering portfolio management advice or stock selection service.
Respectfully,
Paul Mosgovoy, President: Three Ten Trading, LLC
Thank you for reading.
Disclosure: I am long MCP, .