One of the most reliable, if not the most reliable of technical signals is the presence of a false breakout (either up or down).
Yesterday, 1/9/14, Randgold Resources Ltd. (NASDAQ:GOLD) pushed below support (and closed below) that had been established at the 60.00 level during June-through-July of last year. Volume was heavy which suggests that there was a significant changing of hands: Weak to strong.
Today saw a gap-higher open that has not been retraced. As of this writing, GOLD is now pushing back into the previous trading range.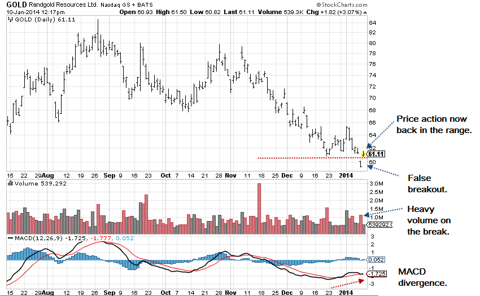 Charts by StockCharts.com
If this action holds and GOLD does not erode (as did MCP), then the signal is confirmed.
GOLD has been in a correction since October of 2012, after a false breakout to the upside. It has declined approximately 50% from that level to the 60.00 area.
However, if we look at GOLD from a longer term perspective viz: The 2008 low, then we see that GOLD has declined or corrected just over 38% of that entire move.
We entered long GOLD at 60.94, during the early part of this session. The expectation is for the position to be in the green at the close. If not, then there is always the possibility of a signal failure or a prolonged corrective/test process.
There is risk with participating in a GOLD move. In March of 2012, the Mali region experienced a military coup and GOLD lost a significant percentage of value overnight. Peak-to-trough was a hit that lasted about two months and resulted in a loss of nearly 40%.
The equity eventually recovered. However, one should be aware of the risks before taking any position.
Disclaimer:
This report is for discussion purposes and contains our opinions only. This posting is to publicly document our thinking and market analysis actions within the Three Ten Trading entity. The data was obtained from sources believed to be reliable. However, we make no guarantee as to the accuracy of that data.
Investing or trading in equities, futures or options may result in a significant loss of capital, total loss of capital or a loss greater than available capital.
We are not advocating any stock or in any way offering portfolio management advice or stock selection service.
Respectfully,
Paul Mosgovoy, President: Three Ten Trading, LLC
Thank you for reading.
Disclosure: I am long GOLD, .