Looking at the daily chart of Randgold Resources Limited (NASDAQ:GOLD), we may have enough data to determine a trading range.
So far, GOLD is holding just above a 38% retracement. This shallow retracement (thus far) indicates that the current move may continue on up to the to the next resistance level at the 75-area.
The hypothesis that there will be a trading range at this point (in the 67 - 71 area) is based on analysis of the two prior up-swings.
The swing from the pivot low at 59.19 lasted two or three days (depending on how you look at it) and had a simple, non-complex retracement into the "test" that we forecasted.
From that point, GOLD launched into six successive gap-open higher days and now appears to be in its second correction.
The probability of this correction being as simple as the first is low. Markets do not repeat exactly and simple corrections are typically followed by complex ones and those are typically followed by simple and so on.
The potential limits of the trading range are identified. This range is only a possibility at this point and subsequent market action may help to define (or negate) this area further.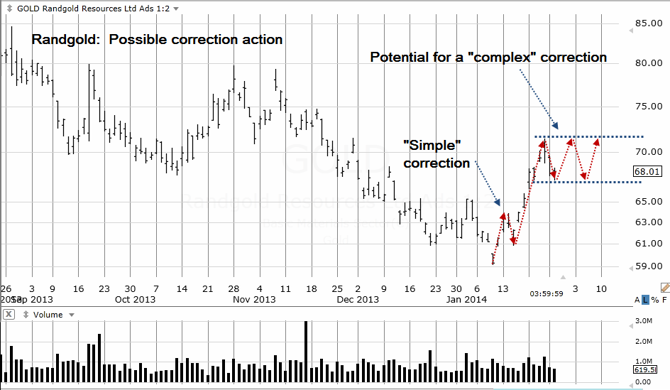 Charts by TeleChart
Of course, we keep in mind that the whole move could experience some kind of failure and to that end, our hard stop is at 60.89 and the soft-stop is at 64.43.
Disclosure: I am long GOLD.