Update: 2/22/14
This position has been stopped-out.
Original analysis:
We have established an initial short position on the Dow by going long the ProShares UltraShort Dow 30 (NYSEARCA:DXD).
Since Exxon Mobil Corporation (NYSE:XOM) is the largest cap of the Dow, we will use it as a proxy:
Looking at the monthly chart shows a well defined picture of a failed breakout.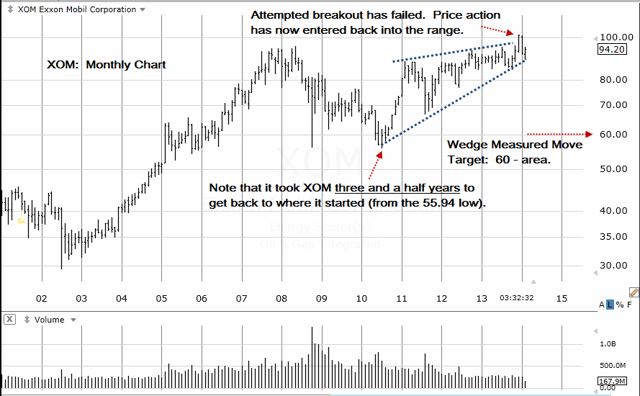 Charts by TeleChart
From a technical standpoint, XOM looks weak. The angle of advance from the 2010 low, is more shallow than the previous advance from the 2002 low.
If we were trading XOM exclusively, it would be classified as a short with an initial measured-move target in the 60 - area.
The hourly chart of the ProShares UltraShort Dow 30, shows our entry point at 28.56.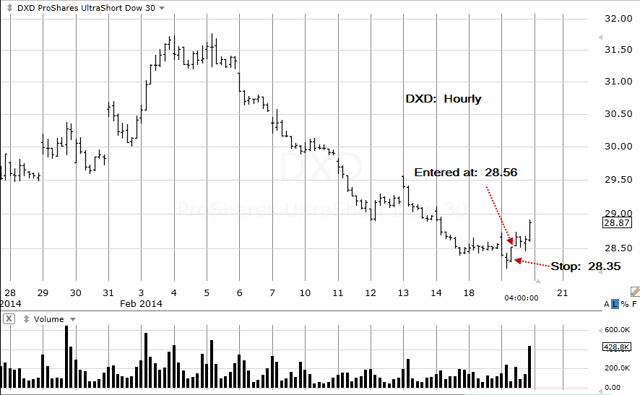 Charts by TeleChart
As stated in all of our updates where entries are discussed, our objective is to be in the green at the close.
If we are not in the green, then the trade is on-guard for exit as happened with the Magnum Hunter Resources Corp. (MHR) trade from yesterday.
DXD has closed at 28.87, above our entry.
Stop on DXD is 28.35, yielding a risk of 21-cents/share.
Disclosure: I am long DXD.