The weekly chart below is a hypothetical example for Randgold Resources Limited (NASDAQ:GOLD):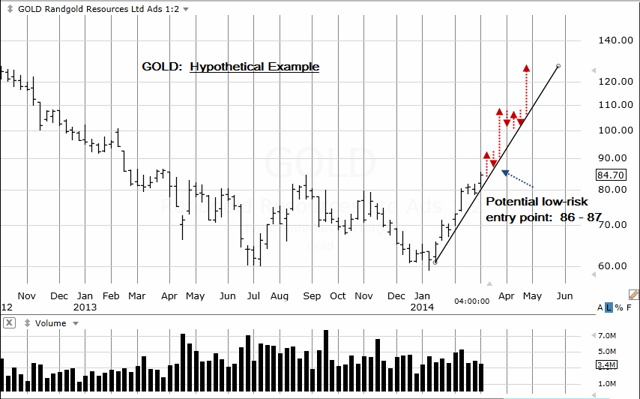 Chart by TeleChart
The trendline has been verified with at least five contact points and is moving higher at approximately 650% annualized.
If this trendline is maintained (and that is a big if), then GOLD has the possibility of a breakout to new highs during the last week of May or the first week of June this year.
If the trend is broken, then we may exit some, all, or none of the position depending on how and where the break takes place.
The next potential low-risk entry is identified somewhere in the 86 -87 area if there is a pull-back after a break higher.
Count the "ifs" in this update..... a total of four so far.
Nonetheless, positioning for a possible sustained move is a chess game. If (that makes five) we are not planning several moves ahead, then there is the potential to miss the opportunity when it arrives. Else we will find ourselves on the sidelines.
If-then-else............ :-)
Disclosure: I am long GOLD.