In a previous update on Randgold Resources Limited (NASDAQ:GOLD) we stated that as GOLD approached its measured move target of 110, that the press coverage would begin to pick up:
"That target (shown below) is around the 105 - 110 area. We should expect that as Randgold approaches this area, the press coverage (and volatility) should begin to pick up."
That press coverage is now in full swing with several SA reports being published on GOLD within the past two weeks. We now have the coverage and we now have the volatility.
In any event, whenever news begins to reach a larger audience the response of the market is that it tends to get volatile.
Today's move was the largest (in points traveled) downward spike since GOLD pivoted off its low on January 10th this year.
Our tools indicate that the downward thrust from today was stronger than the downward thrust that broke below support on January 9th.
Was today's thrust all that was needed to clear out weak hands? We won't know until subsequent market action reveals that to be the case.
The weekly chart below shows that the trend-line remains intact and that for now, Randgold is still on target to reach new highs in late May or early June.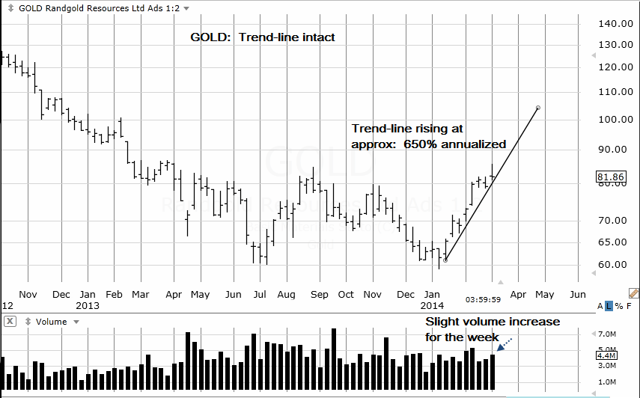 Chart by TeleChart
Moving on to Silver Wheaton (NYSE:SLW) we have an example of what is meant by a low-risk entry.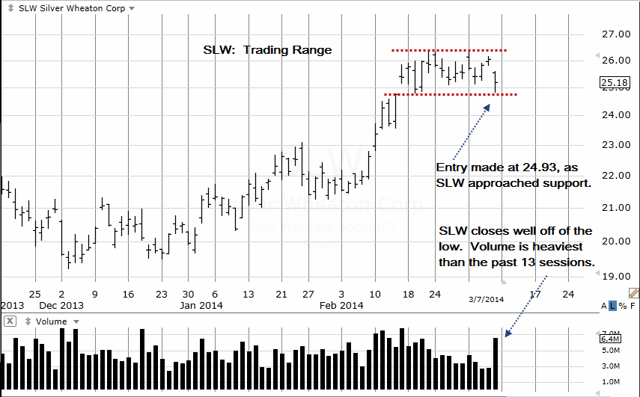 Chart by TeleChart
The low for the day was 24.84. Our soft-stop is the day's low. The hard stop is the previous daily low at 24.81.
The fact that volume was heavy and price action closed well off the low gives us some indication that there is support at these levels.
Therefore, the stop is either 9-cents or 12-cents away from the entry price. This is what we mean by "cents-per-share" risk.
For example: A hypothetical "risk" of $100 (the distance from the entry to the stop) would result in a position size from 833 - 1,111 shares (not taking into account the commission).
One thousand shares may be too large for some (and we are not making a recommendation) but the point here is to present an example of low-risk entries.
As a matter of record, our own position is less than 1,000 shares and so our risk is less as well.
Disclosure: I am long GOLD, SLW.