Author note from Paul Mosgovoy, President Three Ten Trading, LLC:
The report below was intended for publication as a regular article but was rejected by the editors and has therefore been posted as an instablog.
Randgold Resources Ltd. (NASDAQ:GOLD) was identified early-on in this report as the likely leader to come out of the multi-year gold/silver correction.
Since that initial report, GOLD has responded with a bullish launch from its low that included six gap-higher market openings in a row.
Demand continues to be firm and pullbacks have been limited. GOLD now has a solid 35% gain from a pivot low of $59.19, to a current price in the low-to-mid $80s.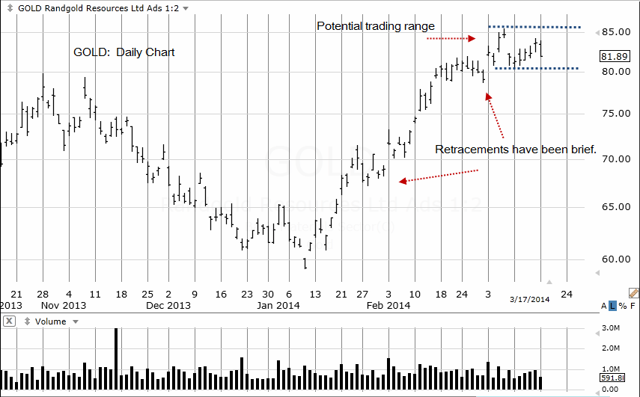 Chart by TeleChart
Original Entry Long:
On January 10th, we entered long GOLD. That entry was executed at a price of $60.94 with a tight 12-cent stop at $60.82.
The reason for a tight stop is two-fold.
First: There are times when the analysis shows that a retracement (even a small one) is unlikely. However, if proved wrong, we want to exit with a very small loss.
Second: If the analysis proves to be correct, then a tight stop allows a larger position to be established. For example, with a 12-cent stop, a risk of $100 (distance from entry to stop) would equate to a position size of over 800 shares.
Once the entry was complete and the stop set, a mid-session update was published while price action was still close to the entry point.
That 12-cent stop was never hit.
A position size of 800 shares would now have an open profit of over $18,000. At a current price in the mid $80s, GOLD is well away from the lows and therefore we have some amount of protection built-in on the open profit.
Sector Fundamentals: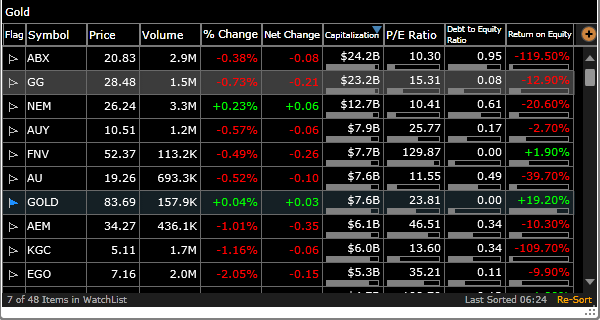 Source: TeleChart
The insert above lists the top ten gold miners in market cap order.
Taking a look at this list, we can observe the following:
With a debt-to-equity of 95%, Barrick Gold (NYSE:ABX) is heavily in debt. The percentage return on equity is in the triple digits, negative.
One possible result from all of this debt is that Barrick is likely to be a laggard in a continuing sector rebound. It may take many years (if ever) to work off the debt. By that time, the bull move may be over.
We see that Newmont Mining (NYSE:NEM) is in a similar position with a 61% debt-to-equity ratio.
There is no doubt that these two (along with the rest of the sector) have recovered off of the lows. However, we are interested in a sustained move that has mid-to-long term investment potential.
Once ABX and NEM get to their resistance areas (28 - 30 for ABX and 33 - 35 for NEM), they may begin to stagnate.
In that light, ABX and NEM are not likely to have sustained gain potential as they drift upward into heavy resistance.
Taking a look at Yamana Gold (NYSE:AUY) and Randgold, they both have low debt-to-equity and in the case of Randgold, it's zero.
The initial report on Randgold identified that only two equities were being considered for a long position. Those two were AUY and GOLD.
That picture changed after analyzing the daily price charts of each. We saw that on a technical basis, GOLD was far superior to AUY which left only GOLD as the choice for a long position.
Since our initial report, Yamana has posted dissapointing earnings while GOLD's has been positive.
This one fact in itself shows that properly analyzing chart price action can help lead the way to selecting the best equity for investment.
A forecast for GOLD:
So, what may be in store for Randgold on a go-forward basis?
Disclaimer: Before going any further, it must be stated that the data presented below is only a forecast. It is has been generated for internal use by my firm and being provided strictly as gratis in this report.
The purpose of creating a forecast is to look at price action in the bigger picture. If (and it's a big if) the gold market continues to rebound, then a forecast shows what might be expected from the market leader.
Before getting to the main event, let's take a look at a prior forecast to see how it was used to stay in a position that is performing well.
The two charts below show a previous forecast for GOLD. The charts essentially speak for themselves. If you are interested in reading the entire updates, they are located here and here.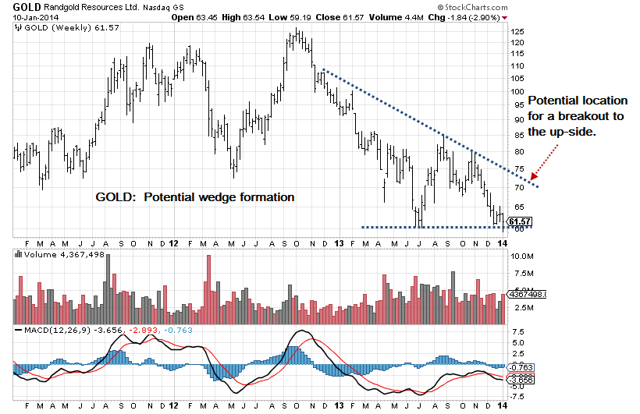 Charts by StockCharts
When the forecast is working out as expected and the position is performing well, it is providing confirmation of the original investment analysis.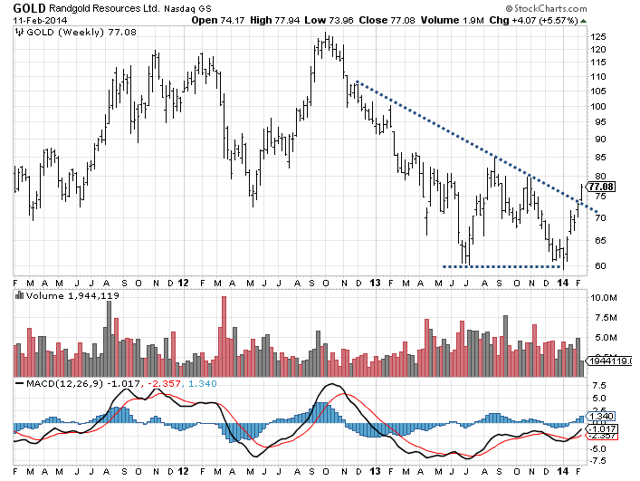 Charts by StockCharts
The go-forward forecast for Randgold is presented below. Since the time-frame is four times as long and the distance farther, the chance for error increases substantially.
However, if the gold market continues higher, the chart below can give us some indication of what we might expect from GOLD: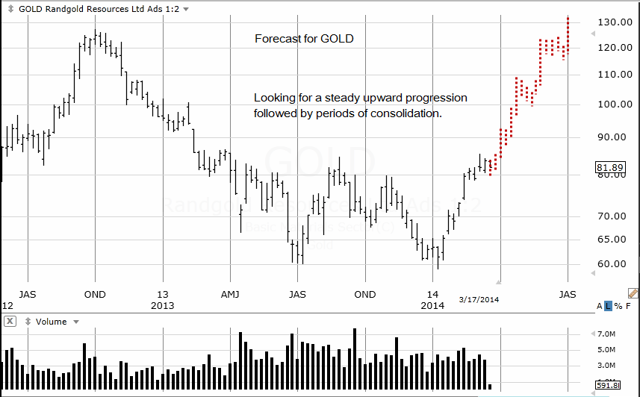 Chart by TeleChart
Source: Three Ten Trading, LLC
The purpose of this forecast is to identify in advance what should be happening in a bull move. If price action begins to take a different course, we are alerted that events are not matching what is expected.
The focus should not be on an exact price-level but that we see a steady upward progression followed by consolidation.
Unforeseen events can change the up-trend dynamics. To protect our open profit, we have trailing stops on GOLD as it makes its way higher.
Wrapping up, it can be seen that the price action of GOLD has been in a dynamic move up from the low. At this point, GOLD may develop a sideways trading range while it consolidates. However, it shows few indications of a significant reversal.
Our expectation is that Randgold will continue higher and has the possibility to breakout to new highs sometime mid-year.
Disclosure: I am long GOLD. I wrote this article myself, and it expresses my own opinions. I am not receiving compensation for it. I have no business relationship with any company whose stock is mentioned in this article.