Both Randgold Resources Ltd. (NASDAQ:GOLD) and Silver Wheaton (NYSE:SLW) Closed lower in what can be viewed (for now) as testing price action.
The daily chart of GOLD shows a penetration of the trend-line and a close below that line.
If this break had taken place with heavy volume, that would be an indication that something is not right and that supply is coming into the market. That supply may still appear. However, we can see that the volume contracted on the day so this trend-line break is weak.
We are maintaining the long position in GOLD.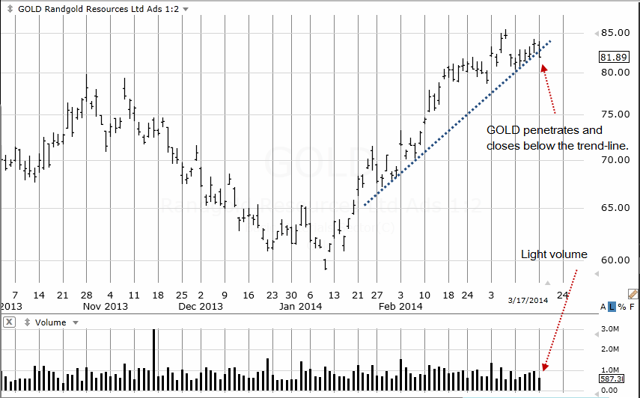 Charts by TeleChart
SLW underwent the same type of testing action but there was no apparent break of the trend-line.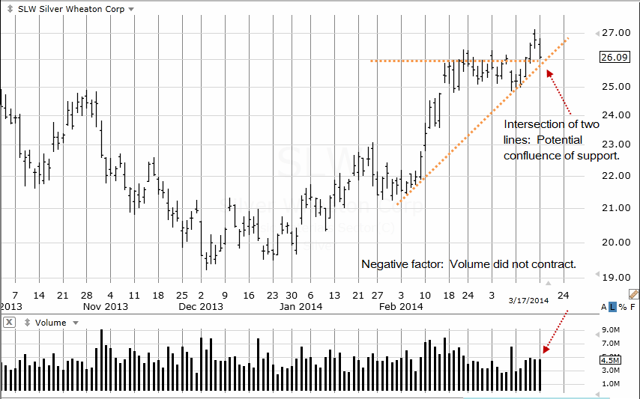 Charts by TeleChart
As noted on the chart. A negative factor is that volume did not contract as can be seen in GOLD above.
This is a warning sign that we may need to prepare for an exit.
If SLW opens gap-higher at the next session and continues higher, then we will probably maintain the position.
However, if SLW opens unchanged, that indicates there is more supply than desired.
As with the Cameco Corp. (NYSE:CCJ) exit, if the bid/ask spread is not acceptable in the pre-market session for SLW, then we are prepared to exit at the open.
Disclosure: I am long GOLD, SLW.