Agnico Eagle (NYSE:AEM) was exited today as it was not as buoyant as Randgold Resources (NASDAQ:GOLD).
Looking at AEM at the close, it has indeed started to make its way back up and will probably continue higher with the rest of the sector.
However, the move in GOLD remains more dynamic. So we made the decision that if forced to only have one of the two, it would be GOLD.
There was also an opportunity in Cameco Corp. (NYSE:CCJ) and capital was needed to take a position in that equity.
Cameco has the potential to solve several problems.
First. The P&F chart below shows the long-term potential for CCJ.
(click to enlarge)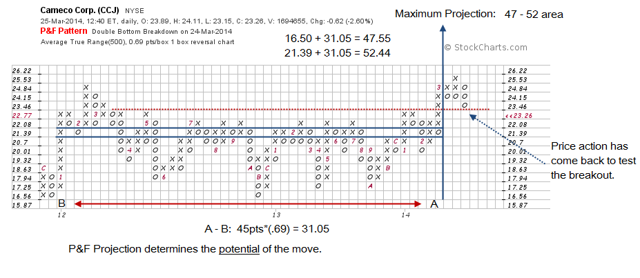 Click to enlarge
Chart by StockCharts
Generating projections with P&F charts is at least a century old technique and used by Richard D. Wyckoff (potentially Livermore as well, but I have not seen any written record).
Using a requirement that Livermore stressed again and again.....if a stock did not have at least a 10-point potential, it was not worthy of consideration.
From the P&F projection, we can see that CCJ is well worth the effort as the potential exists to move well beyond 10-points.
This is a potential only....... stocks that emerge from a long base-building period are good selections for a sustained move. In the case of CCJ, the base-building period has been at least three years.
Second. If we are positioned in GOLD and CCJ, then we have two non-correlated assets.
Uranium mining does not have the same demand drivers as has gold mining. However, both have significant up-side potential.
Unless these two show indications of not performing (or unless a better opportunity is found) we now have our two core positions that will be worked as long as they are viable by entering and exiting smaller positions as these trades progress.
This technique is best described in an ancient text called: "One Way Pockets". First publication was in 1917.
The expectation for CCJ is a gap-higher open at the next session (as was with AEM), a retracement to test and then a continued move higher.
The chart below shows a possible move:
(click to enlarge)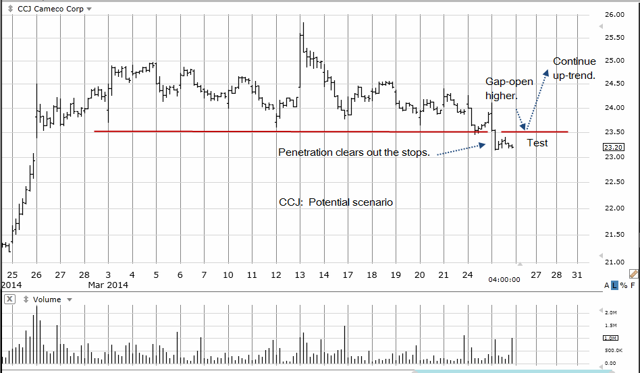 Click to enlarge
Chart by TeleChart
If the above scenario does not play out as anticipated, then we will once again have to see if the set-up still has up-side probability.
Disclosure: I am long CCJ, GOLD.