The damage done to Cameco Corp. (NYSE:CCJ) as a result of today's session will take some time to repair.
A factor that now may be against CCJ is that in three trading sessions, CCJ will likely post a monthly reversal bar... something that is not easily overcome.
Unless there is an immediate move higher in the next three sessions, CCJ price action has some work to do before there may be another opportunity.
Randgold Resources Ltd. (NASDAQ:GOLD) also retraced on the day and has taken out the low from two days ago and is approaching a known support level.
This puts GOLD in position for a potential low-risk entry.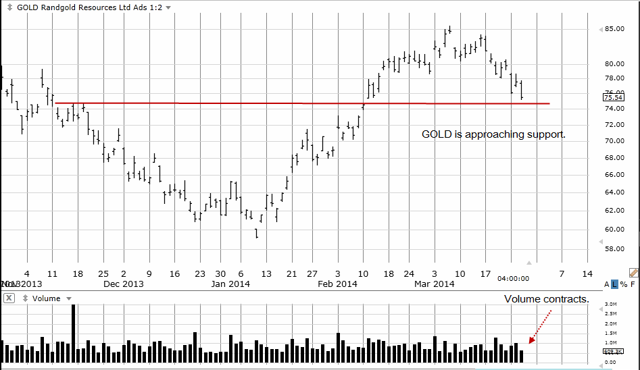 Chart by TeleChart
Our original position (entry at 60.94) in GOLD remains intact.
Moving on to other parts of the market. If one opportunity fails or does not meet expectations, there must be other plans waiting to be implemented.
Now that CCJ is gone.... at least for the time being, we are able to look at Goodrich Petroleum (GDP) to see if there is opportunity.
Starting at the monthly chart of GDP, we can see a massive downward spike (the day after an earnings release) on the largest volume ever for the stock.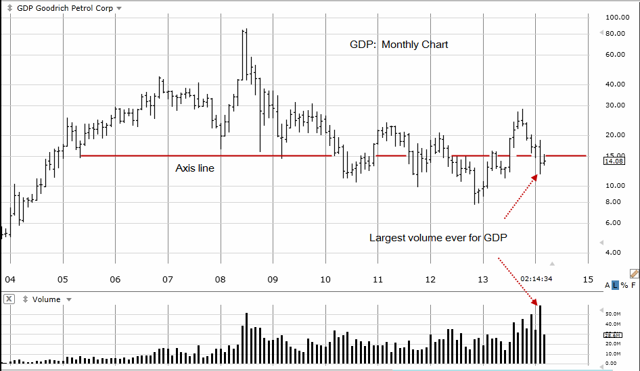 Chart by TeleChart
The daily chart (compressed) shows the extent of the volume.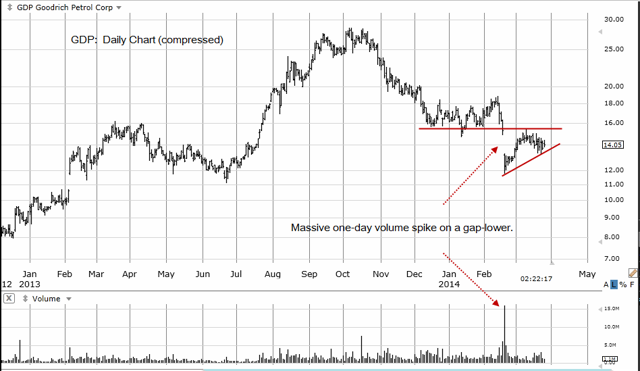 Chart by TeleChart
The daily chart also shows the heavy resistance area and the beginnings of an upward trend-line.
So, how does one know which is in effect? Is GDP going to decline further or push above resistance?
Before that question gets answered, it should be noted that GDP has already established a trading-range from approximately 12.00 to 28.00.
So a move that occurs within this range would result in a move well over 100% and about 15-17 points (referring to the Livermore criteria).
Today's price action hints that GDP may indeed push above the resistance area bounded by 14.70 - 15.15.
Looking at the daily chart (uncompressed) we see a nuance that is hard to pick up at first sight.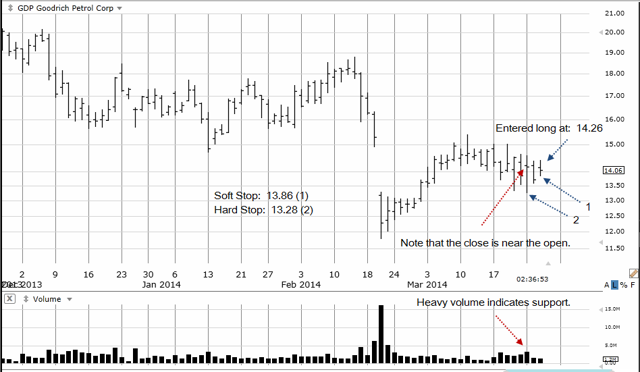 Chart by TeleChart
Volume indicates activity.........it is hard for the large operators to take a position and not have it show up on the tape. They must buy or sell to get into position.
The bar with the volume shows an attempt to drive the market lower that failed. This is the clue.
Anything can happen and new selling may come in........ however, at this point that has not happened and GDP is trending up.
The entry at 14.26 has a Soft Stop (discretionary) at 13.86. As is our objective with any entry, we want the risk to be "cents-per-share".
In the case above, the risk is 40-cents/share.
This trade is not one that is attracting a lot of attention (and volatility) like the gold and uranium markets...... it is setting up very quietly.
Disclosure: I am long GDP, GOLD.