A report with comments on the precious metals markets from the front page of the Casey Research website may be spot-on as the Brits would say.
In that report, there was mention of the possibility of one more wash-out type low in the sector..... yet to come.
If we look at the chart of Randgold Resources Ltd. (NASDAQ:GOLD) as a proxy we see a potentially disturbing picture.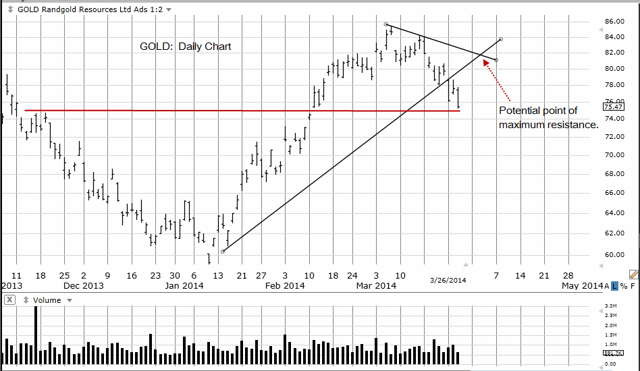 Chart by TeleChart
The trend-line shown only had two contact points and so was not thought to be sufficiently verified (on the break) to result in an exit of our entire position.
A down-sloping trend is shown and the cross of the two lines may represent an insurmountable resistance.
Price action in GOLD has currently set up a divergence as seen on the hourly charts and there may be a bounce up to the apex shown in the chart.
If there is a rally to test the trend break, it may give off clues that we are in for another down-swing if the rally stops at the location shown.
The other miners have fallen more sharply than expected as well. Looks like something is not right........
Disclosure: I am long GOLD.