Today's Fed news may have been used as the final catalyst to trap the bulls.
This may be the start of the move to new lows that was discussed in this link by David A. Hunter and posted on Casey Research.
Obviously, gold price going to $1,000/oz. or lower is not a popular view with so many so heavily committed to silver, gold and the related equities.
Let's look at what the chart has to say:
We are using the Market Vectors Gold Miners ETF (NYSEARCA:GDX) as a proxy for the Direxion Daily Gold Miners Bear 3X Shares ETF (NYSEARCA:DUST).
This update is going to look at GDX a little differently. The daily chart of GDX below is up-side down.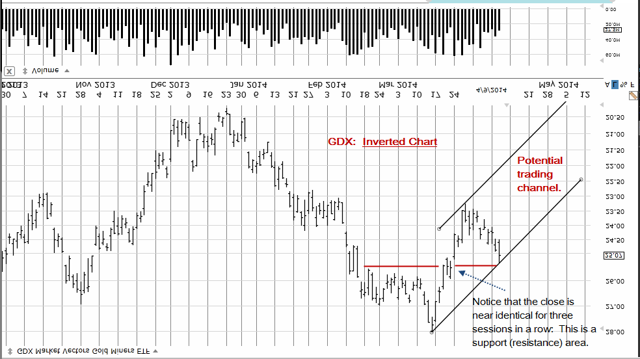 Chart by TeleChart
It can clearly be seen that if GDX is turned upside down, price action has come back down (up) to test the support area as shown.
The reality is that if GDX rises (on the inverted chart) from here, then the down-trend is continuing.
In addition, since we have empirical data that indicates a high level of commitment and fervor amongst the bulls (and a GLD forecast to the 900-area), the potential for a continued down move into a capitulation is a possibility.
For the moment, our plan is to continue to take the short-term indications to go short the GDX (long the DUST) and exit when there is a break of the trend-line or contact with the upper channel line.
Disclosure: I am long DUST.