The following are additional notes on the Direxion Financial Bear 3X Shares ETF (NYSEARCA:FAZ).
We can use the iShares US Financial ETF (NYSEARCA:IYF) as a proxy for FAZ.
The leveraged negative funds have tracking errors that sometimes prevent a clear picture from being obtained.
By using an inverted chart of the tracking index (such as IYF) we get a more accurate picture of what is supposed to be happening with the inverse fund.
So, let's take a look at the IYF daily chart below: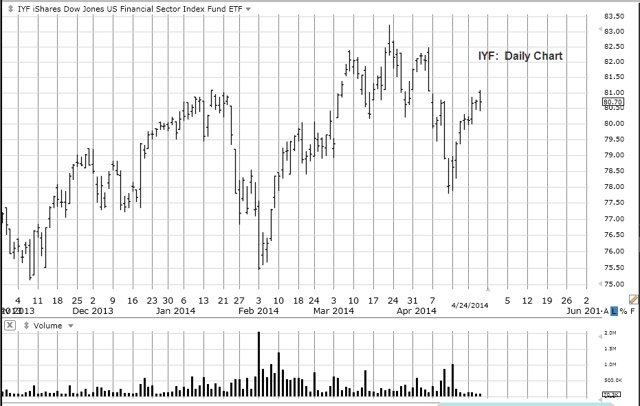 Chart by TeleChart
Lets turn this chart up-side down and mark it up: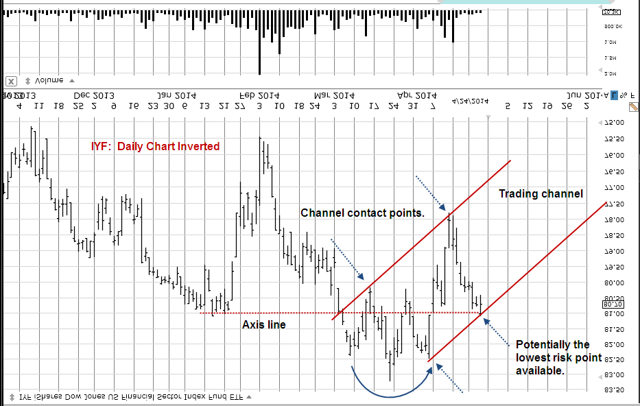 Chart by TeleChart
The inverted IYF chart is what the FAZ should look like if there were no tracking errors.
We can see that price action has oscillated about an axis line for several months and formed a head-and-shoulders pattern (shown by the curved arrow).
There were two contact points made on each down channel and price action has come all the way back up (down on the inverted) and has contacted both the axis line and the channel line.
Subsequent price action will either confirm or negate this analysis.
"Low Risk" does not mean profit. It means that if the analysis is wrong, the loss is the smallest available. If the analysis is correct, the profit potential is many times larger than the amount risked.
With a stop that risks 22-cents/share, a tiny risk of $100 would translate to a position size of over 450 shares of FAZ at the entry price of 20.09.
Just for demonstration purposes, I have re-inverted the marked up chart. Note that the text is unreadable. Please refer to the marked-up chart above.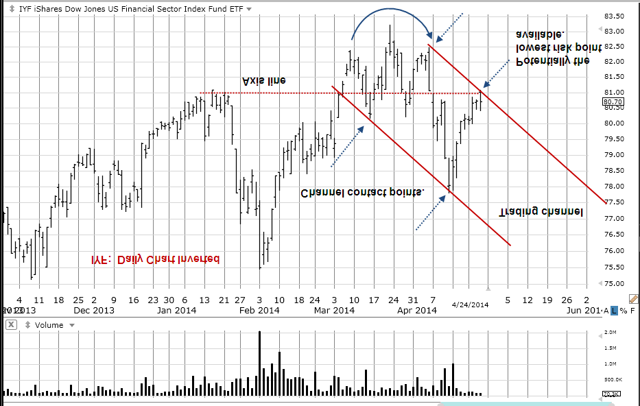 Chart by TeleChart
Disclosure: I am long FAZ.