The last update stated that we were short the iShares Russell 2000 ETF (NYSEARCA:IWM) by taking a full position in the Direxion Russell 2000 Bearish 3X ETF (NYSEARCA:TZA).
Today, at mid-session, the IWM appeared to present another entry opportunity for a position in TZA.
Entry was at 18.12 and the low just a few minutes later was 18.06. That position looked like it was going to survive the day until the last minutes of the session when that 18.06 level was penetrated.
This was a small (about 6.5% of the total size) entry relative to the main position.
So, it was a low risk entry that was stopped out. The main position remains intact.
We now have market research reports and analysis are showing up that detail the weakness in the IWM relative to the other indices.
One of those reports can be found at Market Watch.
When a market is in its final stages, it begins to exhibit fractures where a smaller number of stocks are still moving higher while a larger number are breaking down.
That appears to be what is taking place with the overall market. The Dow and the S&P are still at near-record highs, while the small caps are falling away.
The weekly chart of TZA below shows support/resistance boundaries that may present trade-entry opportunities: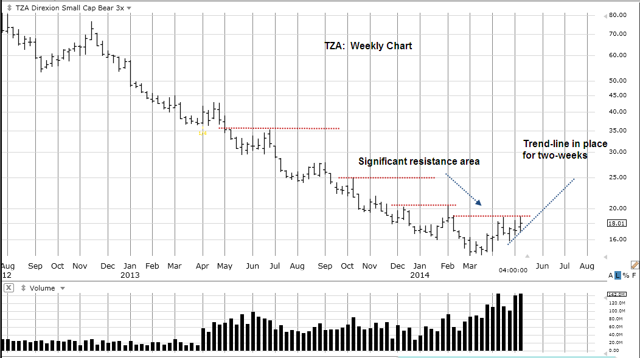 Chart by TeleChart
If the IWM rises above 111.24, we will exit the position in TZA.
Disclosure: I am long TZA.