Just what is "escape velocity"?
There is the physics definition available on the Wikipedia; However, our own definition is that the Direxion Daily Gold Miner Bear 3X ETF (NYSEARCA:DUST) has reached a condition where it is not likely to come back down any time soon. In Wyckoff terms it is on the "spring-board".
If we look at the weekly chart of the Market Vectors Daily Gold Miner ETF (NYSEARCA:GDX) we can see that the GDX is literally falling off a cliff.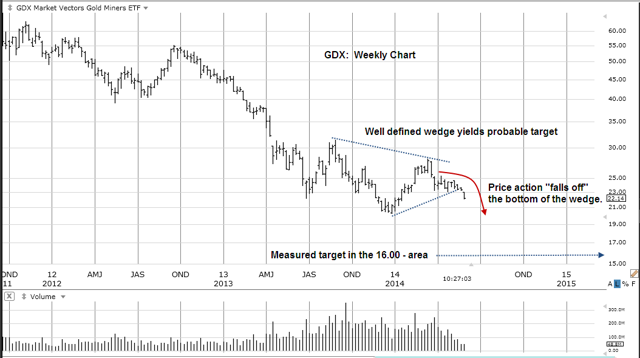 Chart by TeleChart
Of course, the price action could arrest itself in some way and begin to head higher; After so much time congesting and building a down-side target, that event (moving higher from here) looks to be unlikely.
If there is one possible scenario for a move higher in the GDX, it may be to come back to test the break of the 23.30 - 23.40 area.
There is some amount if support in the 21.30 - 21.50 area for GDX. If it decides to bounce and attempt a test of the down-side breakout, it may be another opportunity to position short.
Disclosure: I am long DUST.