There may be a bull-trap setting up in the Market Vectors Daily Gold Miner ETF (NYSEARCA:GDX).
The GDX made a slight new high from yesterday's session but held below the 22.54 high from 6/2/14.
The new high appears to be eroding back into the previous trading range.
This action is typically referred to as a false breakout.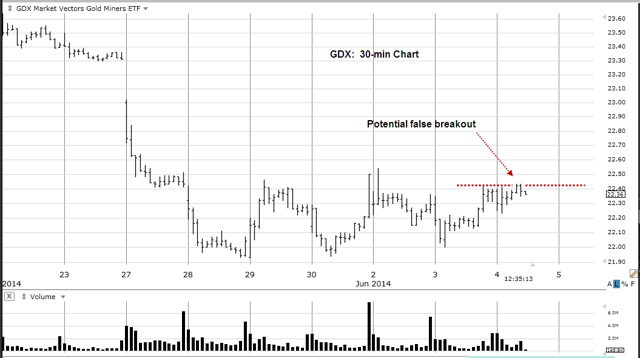 Chart by TeleChart
For those who were looking for a low-risk entry point, this may be an opportunity.
However, we are not going to increase the position size in the Direxion Daily Gold Miner Bear 3X ETF (NYSEARCA:DUST) at this point.
The current price action is potentially at a mid-point of the overall downward move and as such is not the best location for entry.
One thing an entry in DUST at this level does offer is a tight stop. That stop would currently be the day's low at 28.60.
With that kind of tight stop.......it could be the case of in-today..... out-today.
Disclosure: I am long DUST.