The iShares U.S. Real Estate ETF (NYSEARCA:IYR) is interest rate sensitive.
In general, if rates go up or down, then the IYR will adjust to reflect the higher or lower rate.
Looking at the Weekly chart of iShares 20+ Year Treasury Bond ETF (NYSEARCA:TLT) below, we can see that it is at an inflection point.
(click to enlarge)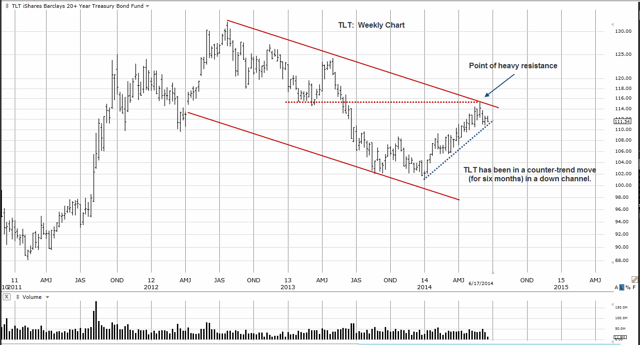 Click to enlarge
Chart by TeleChart
The overall trend is down as shown by the trading channel. There has been a counter-trend move in progress for the past six months that now appears to be reversing.
A move lower in the TLT corresponds to a move higher in interest rates.
As mentioned in this previous post, since the real estate sector is already in a weak position (technically), a move higher in rates may be all that is needed to begin a significant move lower in the IYR.
Disclosure: The author is long SRS.