The chart below shows the correlation between the iShares 20+ Year Treasury Bond ETF (NYSEARCA:TLT) and the iShares U.S. Real Estate ETF (NYSEARCA:IYR).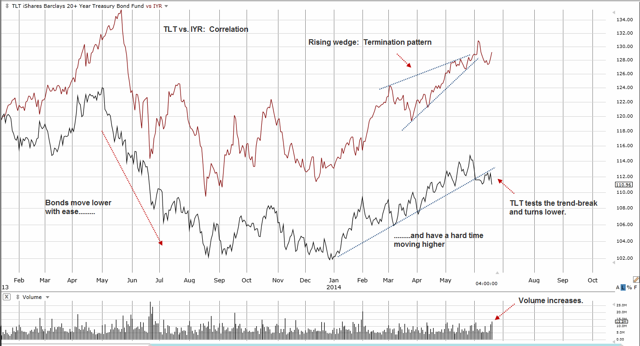 Chart by TeleChart
The TLT has been in a labored move higher from January of this year. During this move (approximately five months) a trend-line was established.
This trend has now been broken and tested with a resulting move lower in TLT. Today's session in particular saw a decisive move lower with increased volume.
Over the past year or so, the real estate sector has tracked the movements of the long-bond closely. However, it is moving in the opposite direction at this point.
This condition sets up a divergence. If IYR continues to track the movements of the long-bond as represented by the TLT, then the IYR is in a position to reverse and continue lower.
There is a potential for a rapid acceleration lower (similar to last summer's move) in IYR as it moves to be in line with the direction of the TLT.
Disclosure: The author is long SRS.