With the S&P 500 at record levels and with long-bond interest rates on the rise, conditions are similar to other market tops.
Actually, it may be worse than just a top but we will not know until this potential "correction" plays out.
The small cap sector has shown more weakness than the other large markets having not made it back to a new high while the rest surge on.
Depending on where the iShares Russel 2000 ETF (NYSEARCA:IWM) closes for the day, it could be an out-side-down reversal.
The daily chart below shows the terminating wedge that has developed.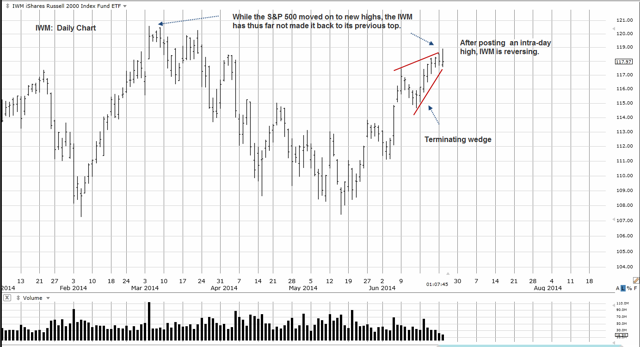 Chart by TeleChart
In real-time, the IWM is falling away rapidly and is already lower than when this chart was created just minutes ago.
Correspondingly, the Direxion Russell 2000 Bearish 3X ETF (NYSEARCA:TZA) has moved swiftly from the entry point of 14.05 to a current level of 14.38.
Disclosure: The author is long TZA.