The iShares 20+ Year Treasury Bond ETF (NYSEARCA:TLT) is in a precarious position along with the rest of the market.
The chart below shows a potential false breakout to the up-side.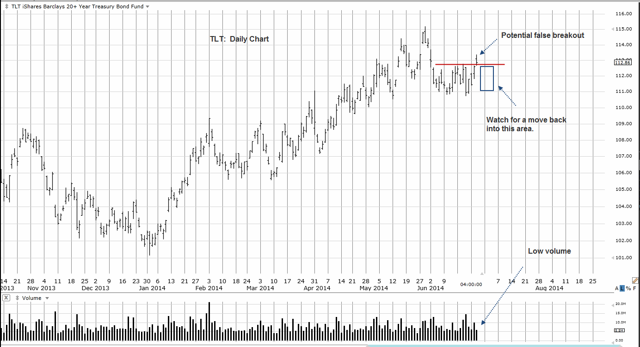 Chart by TeleChart
Why is this so important?
For those who are old enough to remember, in the second half of 1987 bonds started to decline (yields increased) while the overall market was reaching extremes.
If this breakout in TLT does not hold and price action falls back into the range, we might see a continued decline in bonds and yields rising.
With everything at such an extreme: Margin debt, low junk bond yields, VIX at lows and market indices at highs, this potential rise in yields is important as it may start to siphon funds away from the overall market.
In the big picture, a rising long-bond yield is a "heads up" to be on the watch for a potential significant market decline.
Disclosure: The author has no positions in any stocks mentioned, and no plans to initiate any positions within the next 72 hours.