After viewing some market 'analysis' reports (available on the major financial websites), it is clear that the public at large has no indication that subtle changes are taking place in the Small Cap index iShares Russell 2000 ETF (NYSEARCA:IWM).
Because these movements are small, at this point they can be negated by some large outside force at a moments notice.
However if they remain on track, then we might be able to look back and put our finger on this point of the chart and say this was the reversal that lead to the big move.
In the early morning session, the IWM posted a new high, but was unable to hold that high and unable to exceed the high by the close.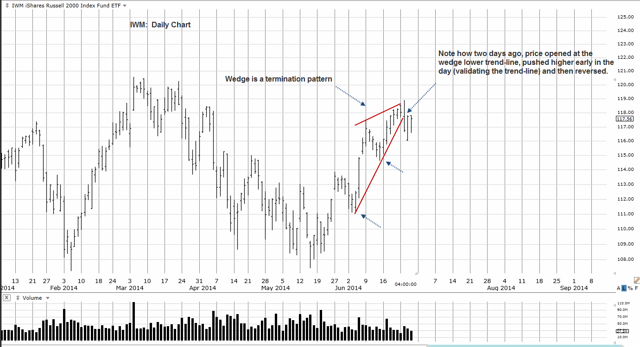 Chart by TeleChart
Subtle indeed and we will only know in subsequent sessions if the IWM is to continue lower.
Disclosure: The author is long TZA.