The Direxion Russell 2000 Bearish 3X ETF (NYSEARCA:TZA) penetrated our discretionary stop of 14.32 early in the session.
For those that have been following for a while, the stop method should be apparent.
There is an initial stop set that when hit sets up a review of the position.
If it is determined that the market position is not likely to reverse, the position is exited.
If however, there is a possibility of a reversal, then a new stop is set that now becomes a hard stop: Non-negotiable.
At no time are any of the stops set below the original stop location that was set at the time of the original entry.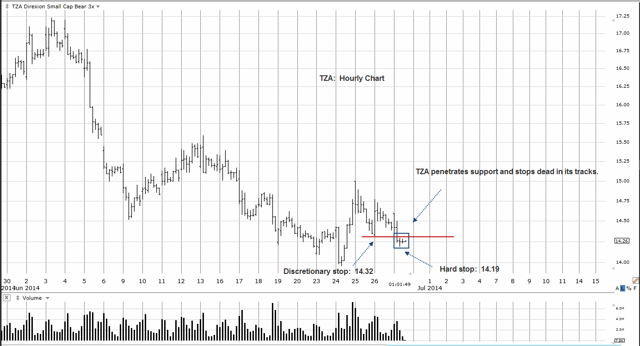 Chart by TeleChart
This method allows for a common fact that there will be errors in the decision process. It automatically eliminates the requirement to be perfect.
As can be seen from the above chart, there is indeed the possibility that TZA will reverse and move higher from its present point.
Therefore, the hard stop is set at the low of the day: 14.19
Disclosure: The author is long TZA.